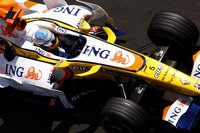 Fernando Alonso has set his sights on Renault's first podium of the season after planting his R28 on the second row in Magny-Cours, much to the delight of the legions of French fans who turned up to cheer him on.
The Spaniard, who set the pace in Friday, once again skyrocketed to the top of the timesheets with a sensational lap in the dying minutes of qualifying. While the Ferrari pairing and Lewis Hamilton went on to lap quicker still, the latter's grid penalty leaves Alonso perfectly poised to mount an assault on third place.
"The times were very tight today, in both Q1 and Q2, but I made it through to Q3 and was able to set a good time," enthused Alonso. "The car has really improved and so for the first time this season we have the real chance to fight for the podium."
"The Ferraris are certainly a step ahead, but we will give our maximum to get a good result tomorrow."
Renault's Pat Symonds concurred that his man was in with a fighting chance of scoring a podium.
"A good qualifying session after our strong form in practice earlier in the weekend," reflected the Englishman. "Obviously we are thrilled with Fernando's second row starting position and I believe he has a real chance of fighting for the podium tomorrow."
Nelson Piquet in the sister R28 just missed out on the coveted top ten shoot out, but the Brazilian underlined the step forward that Renault have made in recent races; the upgrades that the Enstone-based outfit have brought to Magny-Cours clearly playing dividend.
"It's frustrating to miss out on Q3, but we didn't anticipate the behaviour of the soft tyres which turned out be slower than we thought," explained the rookie. "But at least we have the chance to adopt the ideal strategy for the race tomorrow and I hope we can benefit from that because it is particularly difficult to overtake here."
"The times were very close today, but the car behaved well and I think we can be on the pace in normal race conditions, and I will do my best to try and score my first points tomorrow."
Denis Chevrier, Renault's Head of Engine Track Operations, admits that Piquet's qualifying position might play into their hands, especially with Hamilton's gird penalty which promotes the Brazilian to tenth.
"Nelson had a few difficulties with his tyres and so will start the race from 10th on the grid with an adaptable strategy which gives him a real chance of scoring some points," revealed the Frenchman.