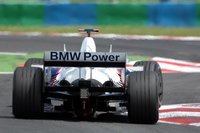 Canadian Grand Prix winners BMW Sauber admit they underperformed in qualifying ahead of Sunday's French Grand Prix, a session that the team likened to a poker game after both drivers struggled with variable tyre performance.
Robert Kubica and Nick Heidfeld, who only fortnight ago were wallowing in the team's first victory and 1-2 finish, could only manage as high as seventh and twelfth respectively, with both drivers struggling with an ill-balanced F1.08 and low grip.
"It looks like we are having a difficult weekend," rued newly crowned championship leader Robert Kubica. "After yesterday's free practice sessions I was expecting us to struggle."
"The balance of the car is not how I want it to be and my car has a poor overall grip. The gap to the top teams seems to have stayed the same, and at the same time the other teams obviously have made a big step forward."
Both Kubica and Heidfeld were unable to get the best performance out of the tyres and the team resorted to switching them back and forth between the soft and harder compounds.
"This was a difficult qualifying that turned out to be a game of poker with the tyres," explained BMW Sauber's Technical Director Willy Rampf. "We were switching back and forth between the two compounds, but weren't really happy with either.
"The Option had more grip but less stability than the Prime. We obviously expected a better result."
Nick Heidfeld, who has been struggling all season with tyre temperatures, failed to qualify in the top ten for the second time this year. The German eventually wound up twelfth fastest, but with three minutes to go in the opening knock-out session, things were looking far less rosy for the 31-year-old as he languished in eighteenth place.
A last ditch attempt in the dying seconds of Q1, saw Heidfeld scrape into Q2, but from there, he struggled to find the speed needed to progress to the run-off.
"The circuit here in Magny-Cours is completely different to the one in Montreal, and right from the beginning of the weekend here we were not as good as we have been recently," explained the German afterwards.
"But still we were hoping for a better qualifying. I'm 12th and Robert just made it into the top ten of qualifying – this is, of course, not what we at the BMW Sauber F1 Team expect from ourselves."
Despite his lowly grid slot, Heidfeld is adamant that he has taken a step forward in performance.
"If I just look at my situation I can see significant progress. I was much closer to getting the best out of the car. There were just hundreds of a second between Robert's and my lap times."
"I will be starting from 11th because Lewis Hamilton has to move back, and I can choose my fuel strategy for the race. Although even the best strategy doesn't improve the pace, we want to have a good race tomorrow."
BMW Sauber's senior management were disappointed with the result but maintain that this is not a true reflection of the F1.08's underlying pace.
"Of course we are not happy with the qualifying result," said BMW Motorsport Director Mario Theissen. "However, we saw in the free practice sessions our car is not as quick as usual. Nick was unlucky today."
"Although being just six hundreds of a second slower than Robert, he missed the top ten qualifying. Also Robert's qualifying did not run smoothly. We changed from harder to softer tyre compounds and then back to the harder ones. In the end, we just missed the second row."
"We will start the race from sixth and 11th. We will see after the first pit stops what we can achieve from these positions."