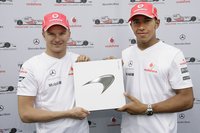 Lewis Hamilton has paid tribute to McLaren in a new book to commemorate the marquee's 40th anniversary.
The McLaren protégé said it was a privilege to work for a team with such an illustrious past and directed a special mention to Ron Dennis, who he famously approached for a drive over ten years ago.
"Leading and inspiring our team in equal measure, has been Ron: the man who has done more than any other individual to make McLaren what it is today," said the British driver in the book's forward.
"It has been, and remains, a privilege to work for him; and I know that the team that Bruce McLaren created more than 40 years ago, and which Ron has guided and nurtured so brilliantly since 1980, will continue to be a tribute to both of them for many years to come."
Hamilton signalled his intent to carry the team forward into the new era and continue the tradition of success: "I'll be aiming to do my bit to make sure it's a fitting tribute."
The book, McLaren – The Cars 1964-2008 a large-format 304-page hardback chronicling every McLaren ever built was launched on Friday at the Chateau de Prye, a 17th century chateau in La Femete, a small hamlet 20km from the Magny-Cours circuit.
The book is divided into chapters – one for each decade of McLaren's existence. Each chapter is introduced by its own foreword, supplied by McLaren glitterati past and present:
The 1960s – Emerson Fittipalidi
"During the early days of my career in the late 1960s, it would have been my dream to race alongside drivers such as Bruce McLaren, Denny Hulme and Dan Gurney. It happened a few years later, in 1974. Winning the World Championship that first year with McLaren was much harder than winning my first one in 1972 had been. Clay Regazzoni (Ferrari) and I were equal on points, and side by side on the grid, going into the last race, in the USA. We needed a real team effort, but I always felt that McLaren was better prepared, and that day it really showed."
The 1970s – Niki Lauda
"Other teams are driven by emotion. As long as you perform they love you, but if you don't perform you get sacked. McLaren is the opposite: a high-quality high-tech team, making the best racing cars ever built, and run with Ron's British coolness."
The 1980s – Alain Prost
"Looking back, of my four World Championships, the one with McLaren in 1986 was the toughest and therefore the one I am most proud of. And by then McLaren was my family. After I stopped racing I worked with McLaren again and was involved on the technical side alongside Ron. It was really a good time for me – but in 1997 I left, but only to try to build my own team in France you must realise. If I have one regret it is that I would have preferred to stay at McLaren, to have that involvement, and to continue working with the team; and to be part of the great team that it is today."
The 1990s – Mika Hakkinen
"When I was with Lotus in 1992-92, for me McLaren was always the number one super-team: it looked good and got fantastic results. My first Grand Prix for McLaren was in Portugal in 1993. The Ford HB engine that McLaren had that year wasn't powerful enough – but everything else at McLaren was unbelievably fantastic. And so when Mercedes-Benz joined as our engine partner, and said "We've come here and we have to win", that attitude gave me even more confidence. I then saw the development work that was going on at McLaren and at Mercedes-Benz in 1995, 1996 and 1997, so that by 1998 we had a good programme, good mechanics, good designers and a fantastic car: the ultimate machine in every respect. So I knew that the World Championship would finally happen."
The 2000s – Lewis Hamilton
"And through it all, leading and inspiring our team in equal measure, has been Ron: the man who has done more than any other individual to make McLaren what it is today. It has been, and remains, a privilege to work for him; and I know that the team that Bruce McLaren created more than 40 years ago, and which Ron has guided and nurtured so brilliantly since 1980, will continue to be a tribute to both of them for many years to come. And I'll be aiming to do my bit to make sure it's a fitting tribute."
Ron Dennis
"I feel privileged to have worked alongside some truly brilliant people at McLaren these past 28 years, but it would be wrong to single out any of them. Currently, I have 1300 colleagues at McLaren, and each is as crucial as his or her colleague, however long or short his or her service with the company and however senior or junior his or her position within it."

'McLaren – The Cars 1964-2008' can be purchased from the following websites: www.mclarenshop.com and www.coteriepress.com
It will also be available via the Team Vodafone McLaren Mercedes merchandise areas at the British Grand Prix and the Goodwood Festival of Speed
ISBN: 978 1 902351 32 2 Standard Edition (£39.95 on www.mclarenshop.com)
ISBN: 978 1 902351 33 9 Limited Edition (£69.95 on www.mclarenshop.com)