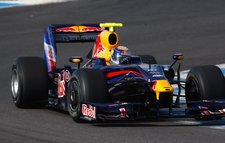 Mark Webber is satisfied that Red Bull Racing are heading in the right direction after the team completed a private four-day test at Valencia this week.
The test was only Webber's second outing behind the wheel of the new RB5 after he broke his leg in a cycling accident at the end of last year, but the Aussie reported that he has making a good recovery.
"I'd say the car development is coming on well and so is the Mark Webber Leg Development programme," he quipped.
"This was the first time I've driven for two days in a row and that went well and there were no ill effects afterwards.
"The leg is getting more and more normal with every passing day and hopefully, by the time we get to Melbourne, I should have the equivalent of six or seven grand prix distances under my belt."
Red Bull Racing launched their car later than the front-running teams to allow Adrian Newey to finalise the new design before testing the car and the four-day test has allowed the team to catch-up on their rivals in terms of mileage.
"We worked through some stuff that was a bit more specific to Melbourne, as the Valencia track is pretty good for this, being quite easy on rear tyres," said Webber.
Webber's teammate Sebastian Vettel, who took over testing duties on the final two days was cautious about making predictions before the start of the new season.
"We have done a lot of laps, but we must continue to work hard at the upcoming tests," he said. "Really, it won't be until we all run in Australia that we will see where we are compared to the others."