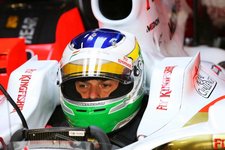 Italian veteran Giancarlo Fisichella says he is still as motivated as ever as he gears up for his second season with Force India.
The 36-year-old Roman, who made his Formula One debut with Minardi and Jordan over a decade ago, is under no allusions that he is entering the twilight of his career, but with the real prospect of scoring points this year courtesy of Force India's new technical partnership with McLaren-Mercedes, Fisichella is in good spirits ahead of the new season.
"I still love this job, I like driving F1 cars and I am passionate about motorsport," he said at the launch of Force India's new VJM02 before giving the new car its first formal outing at the Jerez test circuit in Spain.
"I am very confident in this new car and with the new partnership with McLaren and Mercedes," he added. "It is a very exciting opportunity for the team, and that in itself is enough to keep me motivated."
"Our car is ready quite late relative to the others, and I am looking forward to getting my hands on it. I want to drive the car as soon as possible."
Force India had to delay the design of their new car to accommodate new engine suppliers Mercedes-Benz as well as a new gearbox and KERS unit from McLaren.
Fisichella acknowledges that this has been a setback to the team given that Force India's rivals have already put substantial mileage on their new cars at the pre-season tests in Portugal and Spain.
"It is a disadvantage as it's important to drive as much as you can before the start of the year to get a feeling with the car and try and establish a good set-up," he said.
"It's not easy in just four days, especially with the new rules coming in this year. We are just going to have to try and get as much as we can from these eight days before the season."
However, Fisichella is adamant that the delay was necessary to get the most of the new partnership with McLaren-Mercedes and he is confident that the new car will enable him to challenge further up the grid this year.
"With Ferrari last year we had a good partnership, they were very professional and the engine was very good, but with McLaren and Mercedes we have a fantastic opportunity to integrate the whole engine, gearbox, hydraulics and KERS system," he said.
The Italian driver is also looking forward to the challenge of the new regulation changes such as using the additional 60-80bhp afforded by the controversial Kinetic Energy Recovery Systems (KERS) and racing on slick tyres – though in the latter case he rules out having any advantage as a result of his experience with slick tyres in 1996-7.
"I think this year is maybe the biggest change for many years, with KERS, slick tyres, downforce and new aero rules, so it's very exciting. It would be good to see all the teams mixed up and to be able to fight for points. If the car is good, why not even for the podium?"
He added, dismissing his advantage on slick tyres: "I drove with [slick tyres] back in 1997 and they were completely different compounds used with completely different cars and engines."
"In the 12 years since then the cars and the tyres have evolved so much you can't really compare the two periods. I don't think there will be much of an advantage having driven on them before."