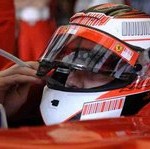 Kimi Raikkonen has said that he can see his Ferrari team catching Brawn GP, even as soon as this weekend in Turkey. The Finn is highly optimistic about his chances in Istanbul on Sunday, after a Ferrari revival saw him take third place two weeks ago in Monte Carlo.
"We're closer, that's for sure, and we'll have some updates in Turkey. It was great to be back on the podium at Monaco. The team pushed very hard and it was a very nice reward to have both cars amongst the first four."
The man from Espoo sounded a note of caution about whether Ferrari would immediately return to winning ways, however.
"The Monaco weekend was a step forward as far as the result is concerned, but we have to be patient: I know that our fans want to see us winning immediately, but we have to be realistic. We know that the others work hard too."
Ferrari are thought to have added more downforce to their car, the lack of which has been the root of their slow pace at the start of the season. Many observers believe the F60 to be a fundamentally strong car, but lacking the aforesaid downforce and speed.
Raikkonen sounds confident, however, and he went on to speak about the championship.
"Now, almost half way through the season, I'm much more optimistic than I was at the start, especially with the steps we've taken in the last two races," he said.
"We know that there are further improvements coming up, which makes me think positive about the future. Everything can happen," he said.