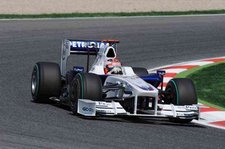 Robert Kubica has said that he regrets not having been able to challenge for the world championship last year, in the light of seeing his prospects for this year evaporate.
The Pole won the Canadian Grand Prix in 2008 and was threatening Lewis Hamilton and Felipe Massa for the title up until the last two races, and said he was especially frustrated that 2008 had come to nothing considering his lack of competitiveness this year.
"Situations like this are common in motor racing; you never know where you are going to be next year. That's why I was disappointed last year when we did not seize our chance when we were very close to the front," said the 24-year-old in an interview with Germany's Sport Bild.
In a slight towards BMW's well-publicised step-by-step approach to racing, Kubica said he wanted his team sometimes to think outside the box.
"In our team everything is always planned step by step," Kubica confirmed. "But sometimes you have to deviate from your plans.
"When the opportunity for me to drive in Formula One came I could have said 'no, it's too early for me. I would rather wait for another year'. Instead you have to seize your chances, otherwise things could pass without you," he added.
Prior to season's start, the man from Krakow was fancied as a dark horse for the title. But BMW Sauber's F1.09 has not been as competitive as hoped and successive upgrades have not had the desired remedial effect.