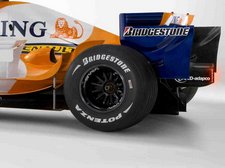 Renault will remain in F1 next season albeit with a smaller stake in the team. Renault have announced that they have sold a large stake in the Formula One team to Luxembourg based company Genii capital. Renault have also said that they will be continuing to supply engines in 2010 to Red Bull Racing.
The announcements come after months of speculation over Renault's future in the sport with many believing that the team might go the way of Toyota and BMW.
Despite selling a large stake in the team, Renault will continue racing under the Renault name.