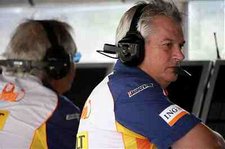 Renault's 'Mr Target' recalls how the French outfit went from a midfield minnow to the third best team of 2008 in the space of a few races.
Renault has secured fourth place in the championship. You must be happy with that?
Yes and no. I like to set very high targets and the goal we set mid-season to finish fourth in the championship with the third quickest car was not as ambitious a target as I would normally like us to set. Having said that it was, at the time, a difficult target and I am pleased that the first part of that target is both objective and proven we've finished fourth and can't be beaten; the second part is probably subjective, although I think in the past couple of races we've shown that we have the third quickest car, so in my eyes we've achieved both those objectives.
How rewarding has it been to see the team's progress over the course of the season and how valuable is that for team morale heading into next year?
It was disappointing that we started the year further back than we had expected to, and had the situation remained like that it would have been quite disheartening for us. There were reasons for it, but in this particular case it's the facts that matter, not the reasons for those facts. The way we've turned the situation around has given us an enormous boost as we've proved we can out-develop our competitors and arguably out-develop those that are leading the championship because we really have moved a lot closer to them. I think that's a great message to take through to next year with so many new factors being introduced because we've shown that we can steal the initiative with this sort of thing.
Fernando's results over the past five races have been outstanding, including another strong drive in China. He seems to be enjoying the R28…
Yes, if the season had started in Belgium we would be leading both championships! It's not just Fernando who is enjoying driving the R28 because Nelson is as well. I've often talked in the past about how important it is to give a novice driver a car he can trust and feel confident in, but if you give that sort of car to a driver as good as Fernando, then he can really push it to the limits. I think that's what we're seeing now because we've got a car that is inherently very stable; it's very honest and predictable and both drivers are exploiting it very well.
As you say Nelson is back in the groove – what's his frame of mind as he approaches his home race?
Going into your home race at any time is a double-edged sword, particularly so when it's your first time. What I mean by a double-edged sword' is that although it gives you that little extra inspiration, you've also got the pressure of the local press, extra attention and high expectation. Having said that, I suspect the Brazilian media will be much more focussed on Massa than they are on Nelson, which is no bad thing. Recently Nelson has shown his ability through his results and just as the R28 has taken an exponential improvement curve, so has Nelson, and that's what should be dominating his frame of mind as he prepares for his home race.
Having secured fourth in the standings, the team can race free from pressure in Brazil. Will that change your tactics or approach to the race?
I don't think it does particularly. There is no doubt that during the last few races we've been very aware of Toyota, what they were doing and the tactics we needed to beat them. So we are released from that constraint, but the reality is that over the past few races our strategy has been simply about achieving the best possible result and that is how we will approach the final race of the season.
Do you expect the R28 to be as competitive in Brazil as it was in the Asian races?
I don't see why not. If you look at the last few races, we've seen the car performing well at some very different circuits. But as well as our strengths, our weaknesses are still there and I think that the exit out of turn 12 and the long drag up the hill to the first corner will be quite tough for us and not an area where we will be particularly strong. However, the car should be good through the quick corners of turns 3 and 5, and overall I think we can maintain a similar level of competitiveness to that which we've shown in the past few races.