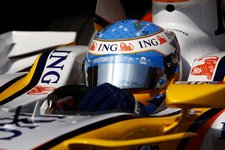 Renault ace admits 'pressure is off' and eyes third win of the season in title showdown
Fernando Alonso is adamant that Renault are now the third best team on the grid and reckons that victory could well be on the cards in Brazil after his impressive back-to-back wins in Singapore and Fuji.
The Spaniard had a torrid start to the year and found himself entrenched in the mid-field during the early races, his Renault powered R28 seemingly suffering from a lack of horsepower and straight-line speed. That triggered speculation that he was on the move for 2009 with a string of teams lined up to accommodate him, including Ferrari, Honda and BMW Sauber.
But Renault turned things around in spectacular style in the second half of the season. Solid points finishes beckoned before Alonso's back-to-back victories in Singapore and Fuji, which although lucky, were only possible after major upgrades to the R28.
While Alonso has yet to confirm his whereabouts for 2009, the general consensus is that he will stay with Renault and his confidence in the French team in the build up to the season finale does little to suggest otherwise.
"Our victories in Singapore and Fuji were a wonderful surprise and our fourth place in China confirmed our return to form," he said. "We were clearly the third strongest team and we had similar race pace to the Ferraris, which is really satisfying for everybody in the team."
"We've all worked really hard and so it's a nice reward, especially as we have now confirmed our fourth place in the championship, which was the objective we set ourselves in the middle of the season. So it's mission accomplished and we can now approach the Brazilian Grand Prix calmly and aim to have another strong weekend."
Renault have already beaten rivals Toyota to fourth in the constructors' championship courtesy of Alonso's impressive performances, and that, reckons the Spaniard, puts the team in a perfect position to score strongly in Brazil, given that rivals Ferrari and McLaren will be locked in a fierce title scrap.
"This year we have already achieved our objective to end the season fourth in the constructors' championship with the third quickest car so we can therefore approach this race with less pressure and be more relaxed, which may help us take advantage of the situation," he added, "after Singapore and Fuji, the team now believes that anything is possible.
Team boss Flavio Briatore meanwhile has suggested that Alonso will probably stay with Renault for next year.
"The chance (that Alonso stays) is fairly big," the Italian said in an interview with German newspaper Welt am Sonntag.
"The last race is this Sunday, so both of the sides will decide then."