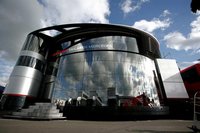 In a warm gesture of welcome to their now regular paddock neighbours, McLaren invited their Williams and Red Bull Racing colleagues to tea today an indication that the Woking squad are set to remain in the middle of the pitlane for the rest of the season.
McLaren were relegated to the last garage in Bahrain in April, where they stayed for the Spanish and Turkish grand prix, after Formula One supremo Bernie Ecclestone reacted to complaints from rival outfits about their positioning between Williams and Red Bull. However, since the Monaco Grand Prix, the Woking-based outfit have assumed the fifth position in the pit-lane.
Just as, on the Thursday of the Spanish GP, McLaren invited its then paddock neighbours Force India and Super Aguri to tea, so today, in the run up to the British Grand Prix, the British team have invited Williams and Red Bull to share in the delights of McLaren hospitality.
"The Williams and Red Bull teams are a great bunch of people, and it was a pleasure to be able to offer them a bit of Vodafone McLaren Mercedes and Absolute Taste hospitality," said Matt Bishop, McLaren's Group Head of Communications and Public Relations.
"Formula 1 people are a lot friendlier than we're often depicted, and today was an example of three teams chilling out together in a chummy and good-natured way," he added.
About 20 Williams personnel and about 10 Red Bull personnel (mainly engineers, mechanics, marketing staff, PR staff) turned up at the famous Vodafone McLaren Mercedes Brand Centre for a delicious selection of tea cakes, flapjacks, scones, all laid on by McLaren's in-house catering company, Absolute Taste; they were later given a tour of the Brand Centre.
McLaren were relegated to the last garage in the paddock after being controversially thrown out of last year's constructors' championship over the spy scandal.
While their position in the paddock has varied over the course of the season, McLaren Team Principal Ron Dennis insists that the team have not been hampered and in Bahrain there was even an advantage from getting a clear exit from the pits.
"Technically, it's an advantage as far as we can see and where we are in the pit lane doesn't affect the races," Ron Dennis said in Bahrain after the team were demoted to the rear of the paddock.
"If there is an outcome, it will be positive not negative. Obviously some of the other facilities are not as good as here in Bahrain, it can be a bit of a squeeze, but we're very resilient to this sort of thing."