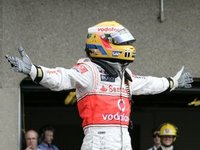 One of Lewis Hamilton's favourite films is the comedy Cool Runnings because of the strength he draws from the soundtrack Rise Above It. And that is exactly what the British youngster will have to do this weekend if he is to get his championship back on track and escape a crucifixion from the British tabloids.
Last year it was the fresh-faced rookie, newly-crowned as the championship leader, who took centre stage at Silverstone as the British press wallowed in Hamilton's meteoric rise to the dizzy heights of F1 stardom. The sensation from Stevenage was the man to beat with nothing to lose and everything to gain. One year on and it is an altogether different tale. With his raw talent behind the wheel of an F1 car no longer proving newsworthy despite holding very much true Hamilton finds himself immersed in a media pressure-cooker after costly mistakes at the Canadian and French Grand Prix led to an onslaught of unwanted attention and criticism. It hasn't helped that his results-blip has coincided with several high profile celebrity exploits which have put him firmly in the public eye and led to mumblings amongst F1's elite that he is focussing too much on his extra-curricular pleasures.
Hamilton insists however that he is not letting the incidents in France and Canada get to him: "You've got to learn to take a step back and realise 'ok, you don't have to do anything, just drive the way you normally drive and you will be fine, you will get by'," he said earlier this week.
"It's just part of the learning curve," he added. "You have your ups and downs and if you don't expect to have them then that's not reality. I haven't met my toughest time in my life as yet but all of this is preparing me for it."
So far much of the hype and questioning has centred on the scenario: what would it mean for Lewis Hamilton to win the British Grand Prix in front of his adoring home crowd? Former world champion Damon Hill hit the nail on the head earlier this week however when he joked: "The alternative is an unthinkable one: you don't win. That's the thing you don't want to contemplate." The ramifications of another disappointing result after two trying races or even worse, a costly error or slip-up in front of his home crowd are monumental and would expose the Briton to an unthinkable onslaught from the tabloids, who are queuing up to knock the 23-year-old from his pedestal.
That is the scale of what Lewis Hamilton is up against this weekend if he is to realise his goal of winning the British Grand Prix and adding to his victories at Monaco and Melbourne.
Leaving aside from the off-track pressures, things are generally looking in good shape for the Briton. McLaren completed a productive three-day test at Silverstone last week and Hamilton set a searing pace in a significantly upgraded MP4-23. All the signs are that McLaren have closed the gap to their Italian rivals at circuits such as Silverstone and Magny-Cours, though it would never have shown in France with the grid penalties. That said the Scuderia remain hot favourites heading into next Sunday's race and there are at least four men that stand in the way of Lewis Hamilton and a historic victory on home turf…
KIMI RAIKKONEN dominated the race last year and cantered off into the distance the moment his McLaren rivals peeled off into the pits for fuel. The Ferrari F2007 was beautifully suited to the flowing high-speed direction changes of Silverstone, and the signs from Magny-Cours a fortnight ago a track not dissimilar in its characteristics suggest the scarlet cars are once again the cars to beat in Great Britain. Raikkonen was eventually forced to relinquish the lead of the French Grand Prix to team-mate Massa as a result of a broken exhaust. But that was not before pulling out a sizeable gap over his Brazilian counterpart, underlining his status as the favourite to lead the charge for the Maranello camp next week. The Finnish star is predicting a close battle with McLaren however:
"McLaren are always strong here, and I'm expecting that next weekend," he said. "I think it's going to be quite close between us and I don't see the other teams being close enough for the win, but with them (McLaren) it is going to be a tight fight.
"I expect to have a good car here, and for sure it would help with the points if we could win, but we need to have a good strong weekend and see where we finish. It will be a close fight. We will try to do another good weekend and hopefully one without any problems, and then have a good result."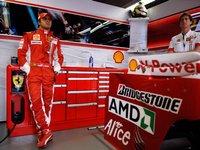 FELIPE MASSA was the chief benefactor of Kimi's exhaust failure in France and has emerged, somewhat unexpectedly, as the championship leader going into Silverstone. The Brazilian has managed to iron out the un-forced errors that plagued his start to the season and under the watchful eye of race engineer Rob Smedley has surfaced as a genuine threat to team-mate Raikkonen. On his day the man from Sau Paulo has proved to be untouchable in qualifying and it would not be a shock to see him plant his F2008 on pole position next week. Unfortunately the 27-year-old has been the wars lately after suffering from a neck problem in France and then coming down with a bout of flu, but that won't stop him gunning for the top step of the podium.
"It's nice to be leading the championship and to see your name at the top of the sheet, but to be honest, it means little at the moment and I have to concentrate on other things," says Massa.
"There is still a very long way to go and being the leader changes nothing for me. I prefer to concentrate on my job and look at the testing and each race as it comes. Only after all the races will we see if we did everything right. Sure, it's good to be first and to come to the next race, leading the series and having won the last race. It gives you a boost, but that only lasts until it's time to start practice again."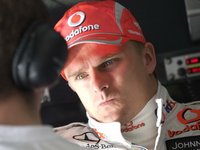 HEIKKI KOVALAINEN needs a good result at Silverstone just as much as team-mate Hamilton after a catalogue of problems and incidents have left him dangerously out of touch with the championship leaders. The British Grand Prix is something of a home race for the Finn with five years of racing in the UK behind him, and it would be a fitting arena for his first career win – something that he has been threatening to do all year with a blistering pace behind the wheel of his MP4-23. After a difficult few races for the 26-year-old admits that the Woking squad need to pull on all their resources for a strong result.
"The most important thing during these difficult times is to keep your focus and make sure we don't start to panic and lose the direction," he told fans at the Brooklands double twelve motoring festival on Sunday.
"We've shown a lot of promise nearly every time on the Saturday after qualifying we've been in a strong position too. But I haven't managed to put it together for the whole weekend and that has prevented us to get the feel for results."
"But its there, its there to be taken and we just have to make sure we do the job a little bit better. "And hopefully we won't have any incidents like in Barcelona and in Monaco. So hopefully without anything extra happening we can arrive at the end of the weekend with a strong result."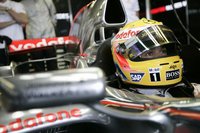 LEWIS HAMILTON himself could just about be one of the biggest obstacles to achieving victory on Sunday if he allows the press to get under his skin.
"(The press) will work with you, but it's reciprocal, and they are better friends than enemies," explains British Formula 1 pundit Martin Brundle who warned Lewis against waging a war with Fleet Street. "An angry driver will always drive like Lewis did in Magny-Cours, over aggressively bouncing off the kerbs and sliding around grabbing half chances to overtake."
Lewis denies ever having such intentions, but he is still under intense pressure to deliver and it will take a strong mind to overcome the intense scrutiny of the British media not to mention 240,000 British fans. However, there is no one better equipped to deal with the pressure than Lewis Hamilton. He will just have to 'rise above it', as he has so brilliantly in the past.
"I'm still confident and focused. We've got 10 races remaining, 100 points – it's all to play for; and I'm ready for it," is the warning to his rivals.