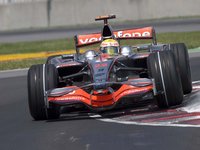 Lewis Hamilton is upbeat about his chances this weekend despite struggling to match the pace of the Ferraris in Friday practice.
The Briton, who faces a ten place grid penalty in France for his very public pit-lane collision with Kimi Raikkonen in Canada, found himself over half a second adrift of Felipe Massa in the morning warm up.
Although he managed to close the gap to 0.3 seconds in the afternoon not before making an excursion into the gravel at the demanding Estoril corner the McLaren ace is still at serious risk of starting at the wrong end of the mid-field given that the BMW drivers have yet to show their true hand.
Hamilton was nonetheless buoyed by the pace of his MP4-23 around the demanding Circuit de Nevers, his off in practice two doing little to dampen his spirits.
"We made a great deal of progress this morning and seemed to get the car dialled in nicely to the circuit," enthused the 23-year-old. "Today has shown we're looking quick this weekend."
"This afternoon, I unfortunately had a twitchy moment at the exit of Turn Three and ran wide into the gravel. It cut short my run with no major damage and slightly disturbed our run programme."
Heikki Kovalainen, who is desperate to notch up a decent race result after a catalogue of incidents have prevented him scoring big, also took heart from the handling of his McLaren, the Finn relishing the high-speed corners of Magny Cours.
"This is a circuit I've always enjoyed – the sweeping corners and fast chicanes really suit my style and I quickly felt at home," wallowed the 26-year-old.
"It's been a pretty straightforward day: during the afternoon, we worked on the set-up and tyre comparison runs without any problems. I'm happy with the balance of the car in both the slow and fast corners and I'm looking forward to tomorrow."
McLaren's management were pleased with the early performance of their cars and are eager to perform well at Magny Cours, which has traditionally been a Ferrari circuit.
"Today has been very constructive, we concentrated on our race set-up, and both our drivers seem pleased with their cars. We're looking quite quick," said Team Principal Ron Dennis.
"Heikki had a straightforward run through practice, but there was some disruption to Lewis's programme this afternoon. He had a couple of offs – one of which damaged a nosecone.
"It looks as if the times completed under racing conditions are quite close," added Mercedes-Benz Vice President Norbert Haug. "But – as usual on Fridays – we only will know more about where we are in comparison to our competitors tomorrow."