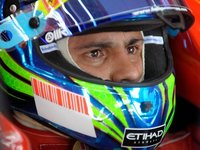 Felipe Massa put his McLaren rivals in the shade with an ominously fast pace in Friday practice in Magny Cours, despite taking it easy with a neck problem.
The Brazilian, who was suffering with a stiff neck, had his running restricted to short stints and set-up work to avoid exacerbating the problem. But that didn't stop him going seven tenths clear of Lewis Hamilton in the morning warm up and leading the Ferrari assault again in the afternoon.
"It was a good day, apart from a slightly tight neck which I began to feel this morning," reflected Massa. "So as not to take any risks, I chose to avoid doing too many runs of several laps. I therefore concentrated on the car's set-up, working with both types of tyre."
Massa, who currently heads Ferrari's championship offensive, also reported problems with the balance of his Ferrari on the softer tyres, suggesting that he is well poised to build on an already formidable pace as the track rubbers in.
"On the softer ones, it seems to be a little bit harder to find the right balance," explained the 26-year-old, "but we must take into account that today, as usual on a Friday, the track is still dirty."
"Everyone suffered a bit with graining on the front tyres, but tomorrow the situation should improve. We must study all the data we have gathered to prepare as well as possible for qualifying and the race."
Kimi Raikkonen, the victim of Lewis Hamilton's pit-lane gaffe in Canada, managed to get within two tenths of a second of team-mate Massa in the afternoon session and was buoyed by the all-round pace of the F2008, which he expects to be "very competitive".
"I am happy with the way things went during these two free practice sessions," enthused the Finn. "We got through all our usual Friday job list, working mainly towards the race. Of course we don't know how much fuel our main rivals were running, but I get the impression we are very competitive."
Ferrari Team Manager Luca Baldisserri echoed Raikkonen's sentiments and was happy with the day's running, despite the logistical problems caused by Massa's tight neck.
"Because Felipe was suffering with a stiff neck this morning, we slightly modified the two drivers' programmes from the usual ones," explained the Italian.
"The Brazilian concentrated on defining the best set-up on the car, while Kimi also had to tackle the task of evaluating the behaviour of both types of Bridgestone tyre available to us."
"We are happy with the work we did today: the F2008 seemed to be going well on this track and that means we can be cautiously confident for the rest of the weekend."