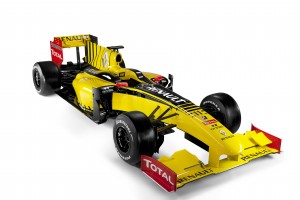 Renault hopes to get back on track with R30; Petrov becomes first Russian in Formula One
Renault has released its 2010 challenger ahead of the first day of pre-season testing which kicks off in Valencia tomorrow.
The R30 features a similar shark fin engine cover to that of the new cars from BMW Sauber and McLaren. In addition the car sports a startling black and white colour scheme which is reminiscent of the French manufacturer's first entry into Formula One in 1978.
Following the similar line to most of the teams, the R30 said to be a mixture of "evolution and revolution" with the team making a considerable effort to rework the rear of the car to make the most of the double-decker diffusers.
Speaking at today's launch Eric Boullier, the Renault F1 Team Principal, was full of praise for the work of his team, after a winter of great uncertainty which threatened the very survival of the Enstone-based operation.
"We ve been working flat-out during the winter to ensure that we begin the new season in the best shape possible." he said, "The R30 should be a competitive, strong and reliable car, and we ve opted for an aggressive development strategy throughout the season.
"Now we re here ready for the first test and we re all excited to see if the car performs as we think it will."
Today's launch also saw the announcement of Vitaly Petrov as Robert Kubica's team-mate for 2010. Last year's GP2 series runner-up is expected to bring significant investment to the team and becomes the first Russian driver in Formula One history.
"This is a great opportunity for me and I m really looking forward to working with the team this season." said the 25-year-old Russian, "I ve always dreamed of racing in Formula One and so to make my debut with a top team like Renault is very exciting.
"The first race is just over a month away so I will make sure I spend as much time as possible with the team over the next few weeks so that I am fully prepared in time for Bahrain."
Robert Kubica is also looking forward to his first season with Renault after a disastrous year at BMW Sauber. The Pole believes that the upcoming pre-season tests will be vital for the team if it wants to discover the true potential of the R30.
"The team has been working on the new car for a long time and it s clear that we are moving in the right direction," said the Pole. "Now we need to maximise the winter tests to keep up this momentum and continue improving the car.
"Our priority is to make the car easy to drive because the new rules favour cars that are not too sensitive we need a car that behaves consistently in a wide range of conditions."
Pictures of R30 (© Renault):