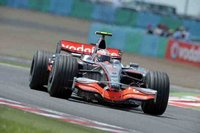 Heikki Kovalainen is all too aware of the threat posed by the Scuderia at next week's British Grand Prix, but the Finn is confident that McLaren are well equipped to take the fight to their Italian rivals, despite their trouncing at the British track last year.
Kovalainen has been impressively quick all year albeit without the silverware to show for it due to a catalogue of problems and incidents. He made the best of a bad weekend in France last week claiming his second podium of the season, despite being severely hampered by a five-place grid penalty.
The Finn's underlying pace behind the wheel of his MP4-23 was in full show again on the second day of testing at Silverstone this week as he vaulted to the top of the timesheets with a lap-time that was quicker than Felipe Massa's best effort on day one.
Ferrari, who have looked quick throughout the first two days of testing, have traditionally flourished at tracks such as Silverstone and Magny Cours, but Kovalainen insists that strong results in 2007 do not necessarily guarantee success this year.
"I think this year we've already seen that the last good result doesn't necessarily mean that much," he told Forumula1.com. "I think that where Ferrari was weak last year they've been strong this year and vice versa."
"One thing is for sure they're going to be very competitive they're going to be very strong, they had a great pace in Magny Cours."
Despite acknowledging the threat that Ferrari pose to McLaren – especially given the mammoth lead of 33 points that they have now pulled out – Kovalainen was buoyed by the underlying pace of McLaren at Magny-Cours which was masked by wrestling it out with slower cars in the dirty air.
"I don't think we were able to show our true pace in Magny Cours, certainly my car in the race I felt that there was a lot more to come had I been able to start higher up the grid and been in the clean air."
Ferrari dominated the British Grand Prix last year with Kimi Raikkonen quite literally cantering home to the chequered flag despite starting behind pole-sitter Lewis Hamilton.
Raikkonen will take over testing duties from Felipe Massa on the third day at Silverstone as will Lewis Hamilton from Kovalainen.