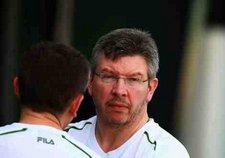 Ross Brawn admits Honda will have to make some tough decisions regarding next year's driver line-up following impressive auditions from Bruno Senna and Lucas Di Grassi during testing at Barcelona this week.
Senna and Di Grassi were given an opportunity to earn their wings behind the wheel of the Honda RA108 prompting speculation that the Anglo-Japanese outfit is looking to replace Brazilian veteran Rubens Barrichello next year.
Both drivers adapted well to the nuances of Formula One, but it was Senna who appeared to have the edge after he lapped eighth quickest on the final day of running, a mere three tenths shy of established Honda driver Jenson Button and over half a second quicker than Di Grassi managed on day two.
Ross Brawn says he was impressed with both drivers and admits Honda will have to think carefully about their 2009 driver line-up.
"In addition to our main test programme, we took the opportunity to evaluate the emerging talents of Lucas Di Grassi and Bruno Senna," explained Honda's esteemed Technical Director.
"Both drivers spent one and a half days in our car which has enabled the team to assess their performance and level of technical skill."
"Lucas and Bruno have both performed admirably over the course of the week and their evident enthusiasm and commitment has made them a pleasure to work with."
"We will now take some time to carefully consider our findings from this test before reaching any further conclusions."
Senna added after his first outing in a Formula One car: "Whether what I did is good enough is for the team to decide now and I respect that. But for me personally, for my first time in a Formula One car, I have to be happy with what I achieved."
"Driving a Formula One car is a very special feeling and it is very easy to know why it is the pinnacle of motorsport. It s very different to anything else you can drive and I just wanted to go faster and faster. Aside from the hard work and focus here this week I have really enjoyed myself."