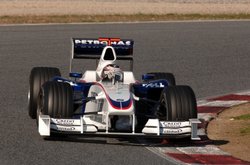 F1's technical revolution kicks off in Barcelona;

Sato leads the way for Toro Rosso as new litter of drivers battle it out for 2009
Barcelona's Circuit de Catalunya bore witness to a sea of change today as the Formula One teams returned to action to prepare for what is expected to be a ground-breaking 2009 season in the context of sweeping regulation changes.
A total of seventeen different drivers took to the track including a litter of test and graduate drivers hoping to make an impression on the sport's elite and earn themselves a place on the grid next year.
Among those vying it out for a potential race seat was the pace-setter himself, Takuma Sato who although something of a veteran finds himself without a seat next year following the demise of Super Aguri GP2 rivals and Honda hopefuls Bruno Senna and Lucas di Grassi, Sebastian Buemi who went second quickest to Sato in the sister STR, and five-time rally champion Sebastien Loeb trying out for Red Bull Racing.
But the biggest head-turners of the day were undoubtedly the cars themselves with the team's hybrid 2009 specifications, complete with KERS (Kinetic Energy Recovery Systems) and new front and rear wings, providing plenty of eye-candy for the world's photographers.
Eye-candy
BMW Sauber were among the first to catch the eye as Robert Kubica and Christian Klien took to the track with 2009 aerodynamic settings as well as KERS.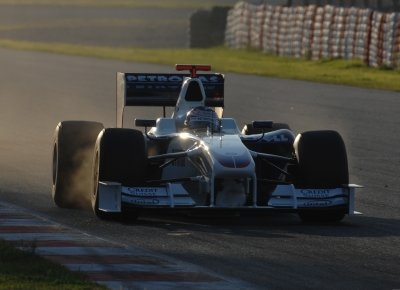 The front wings will be much wider and lower next year, while the rear wings will be smaller and higher in a bid to promote overtaking and improve the racing spectacle. The return of slick tyres meanwhile will compensate the loss in downforce that these changes will bring about by increasing the mechanical grip.
For the first time ever the front wings will also be adjustable allowing drivers to make changes during the course of a lap to help them pass the car in front or defend their position.
BMW Sauber were not alone in their testing, though the modified F1.08 was by far the most visually striking. Williams took to the track with a 09-spec rear wing but maintaining their 08 front wing, while Ferrari ran with two different cars, one for each specification.
Sato goes quickest
The level of experimentation made it difficult to read too much into the timesheet.
Toro Rosso dominated most of the day with Sato being backed up by Red Bull test driver Sebastien Buemi.
Alex Wurz was third quickest behind the wheel of a revised RA108 as Honda ran with new aero components as well as slick tyres.
McLaren's test drivers Pedro de la Rosa and Gary Paffett were fourth and sixth respectively. De la Rosa ran with the McLaren's new KERS system fitted to his car, as did Ferrari test driver Luca Badoer who split the two silver cars.
BMW Sauber's Robert Kubica lapped seventh quickest ahead of five time rally champion Sebastien Loeb who completed only his second outing in the Red Bull car, emerging as the fastest newcomer of the day in eighth place.
Renault's Nelson Piquet and Christian Klien in the second BMW Sauber rounded out the top ten.
Honda hopefuls Bruno Senna and Lucas di Grassi were fifteenth and seventeenth respectively having completed half day installation tests. Their main running will kick off in the ensuing few days of testing.
The pair were split by Renault's Giedo van der Garde who tested for Renault as a reward for winning the Renault World Series title. It was a harsh welcome to the sport for the Dutchman though after he crashed his Renault having completed just 27 laps.
With thanks to autosport.com