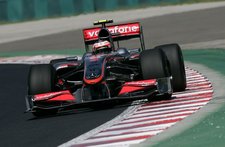 Heikki Kovalainen topped the timesheets, for only the second time this season, by setting the fastest time in the first practice session for Sunday's Hungarian Grand Prix.
The Finn was followed by Williams' Nico Rosberg, with his Mclaren teammate, Lewis Hamilton, in third.
Jaime Alguersuari made a solid start to his Formula One career with a blemish-free session in twentieth.

Pos  Driver       Team                       Time              Laps
 1.  Kovalainen   McLaren-Mercedes      (B)  1:22.278            21
 2.  Rosberg      Williams-Toyota       (B)  1:22.337  + 0.059   27
 3.  Hamilton     McLaren-Mercedes      (B)  1:22.554  + 0.276   20
 4.  Webber       Red Bull-Renault      (B)  1:22.615  + 0.337   21
 5.  Nakajima     Williams-Toyota       (B)  1:22.619  + 0.341   25
 6.  Trulli       Toyota                (B)  1:22.705  + 0.427   17
 7.  Raikkonen    Ferrari               (B)  1:22.796  + 0.518   23
 8.  Massa        Ferrari               (B)  1:22.855  + 0.577   25
 9.  Alonso       Renault               (B)  1:23.001  + 0.723   28
10.  Button       Brawn-Mercedes        (B)  1:23.130  + 0.852   25
11.  Kubica       BMW-Sauber            (B)  1:23.146  + 0.868   24
12.  Heidfeld     BMW-Sauber            (B)  1:23.154  + 0.876   23
13.  Barrichello  Brawn-Mercedes        (B)  1:23.209  + 0.931   24
14.  Glock        Toyota                (B)  1:23.234  + 0.956   30
15.  Vettel       Red Bull-Renault      (B)  1:23.283  + 1.005   25
16.  Fisichella   Force India-Mercedes  (B)  1:23.484  + 1.206   20
17.  Piquet       Renault               (B)  1:23.678  + 1.400   22
18.  Sutil        Force India-Mercedes  (B)  1:23.845  + 1.567   18
19.  Buemi        Toro Rosso-Ferrari    (B)  1:23.998  + 1.720   37
20.  Alguersuari  Toro Rosso-Ferrari    (B)  1:24.228  + 1.950   42