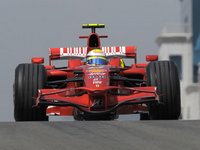 Newly crowned championship leader Felipe Massa, the first Brazilian to lead the championship since the late Ayrton Senna and a man poised to shatter the dreams of 240,000 British supporters this weekend, admits he is ready to be champion – though he dismisses the comparisons with his hero Senna.
After taking victory in Magny-Cours last weekend thanks to Kimi Raikkonen's exhaust problem, Massa finds himself somewhat unexpectedly leading the world championship by two points to Robert Kubica.
The Ferrari ace, who led an inspired charge through the pack at Silverstone last year after a technical problem on the grid demoted him to last, admits that he has come along way since his days as a somewhat erratic young Sauber driver and is now ready to take the fight to his McLaren rivals, not to mention his team-mate.
"I think I am ready to be world champion," affirmed the Brazilian to reporters this at Silverstone. "I cannot say I am not ready given the position I am in, but I can only repeat that there is still a long way to go and this is the time to think about one race at the time, not the whole championship."
"Coming here leading the championship does not change much in terms of my attitude because there are so many races to go. My aim is the same, which is to try and win the race."
Massa admits that with at least three other drivers vying for the title honours he has to be flawless on race day if he is to retain his advantage – something he has got better and better at under the tutelage of his highly regarded race engineer Rob Smedley.
"Fighting against three drivers rather than just having one opponent close on points is actually a much tougher challenge, because if you have a difficult weekend, you can suddenly find yourself behind all three of them on points."
"They all have a chance of beating me and I would not say that one of them in particular has the best chance. I think it is very equal but I do not feel under any pressure and I just get on with my work with the team to make the car as good as possible."
Massa's popularity in his home country has soared since his coming-of-age with Ferrari and the Sau-Paulo hero has paid homage to Ayrton Senna, who was the last Brazilian to lead the championship, though he admits that makes no such comparisons with the triple world champion.
"I believe Ayrton is the best driver ever together with Michael and in fact it's very difficult to say which was better out of the two of them as they were both at a similar level," he said.
"But I would say that Senna is an example of what a great driver should be. I don't make any comparisons between myself and Ayrton."
"I have tried to learn from what he did, but he raced in a different era and so there is not much to take from that. To be honest, I of course learnt more from Michael as I was his team-mate and he was a good teacher."
Ferrari arrive at Silverstone on the back of a productive three-day test at Silverstone in which the Italian outfit tested a number of aerodynamic and mechanical components. Both drivers said they were happy with the handling of the F2008 around the former airfield and although their lap-times were markedly slower than rivals McLaren, the gap is widely believed to be non-existent, with the Scuderia actually holding on to a slight performance advantage.
"The test here last week was very important for us in defining a good base line from which to start this weekend," said Massa.
"We did a lot of miles and that is the basis for being in good shape now."