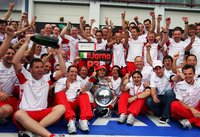 Things are finally starting to come good for Toyota. Fresh from their first podium in over three years, and showing fine form at last week's test at Silverstone, the Cologne-based outfit have emerged as something of a dark horse going into this weekend's British Grand Prix.
Toyota have racked up more points in the last two races than in the whole of 2007 courtesy of Timo Glock's best career fourth place finish in Canada and an impressive charge to the third step of the podium for Jarno Trulli in France.
Trulli, relishing a more predictable TF108, has only once qualified outside the top-ten this year and in France he came within three tenths of Lewis Hamilton (before the McLaren penalties) to take fifth place just behind Alonso, despite carrying more fuel than his immediate rivals.
Buoyed by one of their best results in competition, the team went on to set a searing pace the during three-day test at Silverstone last week. Timo Glock and Jarno Trulli both lapped second quickest on their respective days behind the wheel of a significantly upgraded TF108, and GP2 star Kamui Kobayashi was an impressive fourth fastest, just shy of Robert Kubica, when he took the helm on the second day of running.
With the Silverstone airfield bearing similar characteristics to Magny-Cours with its flowing medium to high speed corners, both Trulli and Glock could prove to be surprise threat to the formbook this weekend, especially if Trulli gets a whiff of the front two rows of the grid in qualifying.
"After such a fantastic result in France I think we have a very good chance to be competitive again," says the Italian veteran. "So far this season it has been very tight in the midfield but we are in there fighting and we will push as hard as possible to score more points. We showed what was possible in Magny-Cours so now I am looking forward to another exciting race."
Toyota's rivals in the mid-field are all too aware of the threat that the Cologne-based outfit pose this weekend adding weight to the view that Trulli and Glock are well poised to lift themselves out of the mid-field scrap and potentially cause some anguish for the likes of BMW Sauber.
"Unfortunately Toyota had a very good weekend in Magny-Cours," bemoaned Red Bull Racing's Mark Webber. "The car works well for them there, so my focus is on Trulli and we need to make sure that we keep those guys under control – and as a team we are racing Williams, Toyota and Renault."
Another chief victim of Trulli's sterling charge in Magny-Cours was Renault's Fernando Alonso who saw the Italian vault past him at the start, effectively writing off his strategy. But Renault's Chief Race Engineer Alan Permane explains that there was never any question that Trulli would end up hold them up: "Trulli went away from us and the first reaction is 'oh damn they've got in front of us that's really going to screw our strategy up', but actually Trulli then pulled away from us and actually had a lot more fuel in."
"So then we very quickly realised we were in trouble and had to do something about it and that's when we switched to a two-stop and from then on things improved. But the race was killed was by being of the pace in the first fifteen laps; the race was absolutely killed."
Sporting a special livery to mark the release of the new Batman film, Toyota are every bit the 'Dark Knights' this weekend.