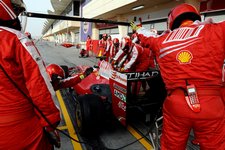 Ferrari boss Luca di Montezemolo has given a strong indication that his team will abandon development of their 2009 challenger, the F60, in favour of next year's car after a difficult start to the season.
By virtue of challenging McLaren-Mercedes right down to the wire in last year's title race, Ferrari, like rivals McLaren, started the 2009 season on the back foot and found themselves at the mercy of the likes of Brawn GP who begun developing their car to suit the new rules much earlier in the season.
They also based the entire design of the F60 to accommodate a KERS device, something which the teams are now abandoning due to the extra weight.
The lack of performance has left Ferrari almost eighty points behind championship leaders Brawn, and now, it seems, the team is likely to adopt the path taken by the Brackley-based outfit last year by getting ahead start on their 2010 car.
"I am confident that we can improve our performance in the next races, but having said that it is quite difficult – if not impossible, really – to dramatically change the car during the season without tests," said Luca di Montezemolo.
"Unfortunately we started the season with grey rules. "It is difficult to give a correct interpretation and the proof is that the three teams that have won the last F1 World Championships – like Ferrari, McLaren and Renault – have made the same interpretation of the rules and they are not as competitive as before."
"This is one of the reasons in our battle – to have more stable, clear and transparent rules – we made the car with KERS; it means that more weight is on the car and a lot of other teams have not done KERS. So if the federation (FIA, governing body) wants to introduce KERS, it has to be the same for everybody. Now I think it is time to go back to clear rules."