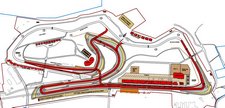 Donington Park has been granted planning permission to begin its multi million pound redevelopment programme to host the British Grand Prix.
Donington won a 17-year contract to host the British Grand Prix from 2010, but fresh doubts were cast over the deal last week when Bernie Ecclestone said that the event could still return to Silverstone should the plans fall through.
With planning permission now secured, Donington can press on with its planned construction work, but it remains to be seen whether it will be completed in time.
Donington Ventures boss Simon Gillet told reporters: "It's great to have cleared another hurdle and to see the hard work of the entire team at the circuit paying off."
"There's no denying that we still have a lot of hard work ahead but we'll continue to remain positive and do everything that we can to deliver against the promises that we have been made.
"The construction work is obviously extremely important, but we're also trying hard to ensure that it doesn't compromise the experience that our visitors to forthcoming events have."