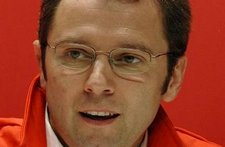 Ferrari team principal Stefano Domenicali says that reliability is Ferrari's chief priority ahead of the season-opening Australian Grand Prix in two weeks time.
Kimi Raikkonen and Felipe Massa have both been hampered by mechanical gremlins at the recent pre-season, and although Domenicali is adamant that the new Ferrari F60 is quick enough to put his drivers at the front of the grid, he admits that the team must iron out their reliability problems before Melbourne.
"Over the last days I've been to Barcelona to follow the last stages of the test sessions and I've seen a very concentrated and determined team," he said.
"We're satisfied with the level of our car as far as the performance is concerned. It's obvious that we still have some work to do and that we have to concentrate on its reliability."
Felipe Massa would have been crowned champion last year had Ferrari enjoyed better reliability and Domenicali is determined not to let poor reliability damage his drivers' title hopes again.
"Last year we've seen how important reliability and the smallest details are. We have to work much harder in this direction," he said.