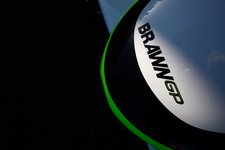 Ferrari boss Stefano Domenicali has joined the growing list of F1 insiders to acknowledge Brawn GP as a genuine threat to the status quo in Melbourne.
The newly formed Brawn GP team dazzled the paddock this week setting a searing pace at the penultimate pre-season test in Barcelona [see HERE], while defending champions McLaren have admitted that their new car isn't fast enough to compete at the front [see HERE].
Domenicali says that predicting the pecking order in Melbourne is harder than ever but thinks that Brawn GP are one to watch.
"I don't want you to think that I'm avoiding an answer, but it's more difficult than ever to say anything about the levels on the track," he said.
"Until a couple of days ago there was a great equilibrium between the different teams – some expected and some a bit less – and then there was Brawn GP's exploit; their performance was incredibly surprising and they have to be watched with care.
"We think that we're part of the more competitive teams, but there are still many unknown factors to consider. We have to wait for Melbourne to get the answers."