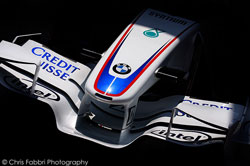 Are Raikkonen s title celebrations in tatters? This season s dramas look set to roll on as it is understood that Williams and BMW-Sauber are under investigation by Brazilian race stewards after three cars failed post-race inspections.
The cars of Nico Rosberg, Robert Kubica and Nick Heidfeld are under investigation for possible fuel irregularities. The trio finished in fourth, fifth and sixth.
Article 6.5.5 of the F1 technical rules state that, "No fuel on board the car may be more than 10 degrees centigrade below ambient temperature." The FIA have now confirmed that the trio s fuel temperatures were outside the permitted temperatures, saying the fuel was "more than 10 degrees below the ambient temperature".
In a statement, it has been revealed that during his first pit-stop, Heidfeld s fuel temperature was 13 degrees lower than the ambient temperature, and during his second stop, his fuel was 12 degrees lower.
Robert Kubica s pit-stops have revealed that his temperatures were 14 degrees, 13 degrees and 13 degrees out respectively. Nico Rosberg s fuel temperatures were 13 and 12 degrees out.
It has also been revealed that the second BMW of Kazuki Nakajima also had fuel temperature irregularities his fuel was 12 degrees out on the first stop, however his fuel temperatures were within regulations on his second stop. The air temperature during the race averaged 37 degrees, while track temperatures topped a record 64 degrees.
As yet, the stewards have not made a decision over what penalty, if any, should be applied to the three drivers under investigation. Should they be disqualified from the race, Lewis Hamilton would be crowned the 2007 Drivers' World Champion.
(Picture Source: Chris Fabbri)