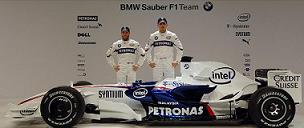 BMW have become the fourth Formula One team to unveil their 2008 car. BMW have launched their F1.08 in Munich, Germany, and are hoping that their new F1 car will help them improve on last year s results which saw them finish second overall. BMW were the surprise of the 2007 season and after the McLaren team were disqualified, BMW found themselves finishing behind Ferrari in the standings.
The F1.08 boasts some changes from 2007 s challenger the front wing now consists of three elements with a slimmer nose. The sidepods are slightly different in both size and form to help with cooling on the car, although the basic sidepod idea is virtually the same as that on the F1.07 as BMW engineers were happy with the cooling F1.07.
The engine cover on the F1.08 is much smaller with extra wing elements on the engine cover. Winglets have also been place in front of the rear wheels to aid both downforce and airflow to the rear wing. Rim covers have been added to the car wheels fixed at the front and turning at the rear to aid brake cooling and air flow around the tyres. As with the rest of the field, the cockpit area has also got significant modifications in line with improved safety rules for the 2008 season.
BMW s technical director Willy Rampf is confident that the F1.08 will be strong enough to continue fighting at the head of the pack in 2008.
"I think with the F1.08 from what we see from simulation and wind tunnel we are quite confident and looking forward to seeing the positive results," Rampf explained. "We are confident, but it all depends on the competition and we will see in Melbourne how strong the competition is. With the product we see here we are confident."
Having lost Timo Glock to Toyota, BMW still have to decide on a test and reserve driver for the coming season. British Formula Three Champion Marko Asmer is favourite to be given the contract, however Spaniard Javier Villa also stands a good chance. Motorsport director Mario Theissen has said that the team will probably not decide on a driver until after January.
"We have had Marko Asmer in the car," he explained. "He will get a second opportunity later this week. I don t expect a decision to be made before the end of January."