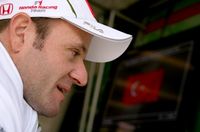 With Honda still yet to confirm their driver line-up for the 2009 season, perhaps in the hope of luring double world champion Fernando Alonso to the team, Barrichello has reportedly decided to review his options and accept a test in IndyCar.
The Brazilian driver has already stated that although he is still ready to race and would love to remain in Formula One, he might not get a race-seat next season and that Honda s refusal to confirm next season s line-up is tiresome.
According to Grande Premio, Barrichello is set to test a Penske IndyCar next month, potentially at the Homestead track in Florida. Another option for Barrichello may also be the Brazilian stock car series which already has former Brazilian F1 drivers competing in the shape of Luciano Burti, Tarso Marques, Antonio Pizzonia and Tarso Marques.