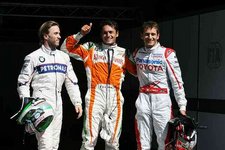 Forumula1.com's Hugh Podmore looks at the winners and losers from Saturday's fraught qualifying session for the Belgian Grand Prix.
Giancarlo Fisichella took an unbelievable pole position for tomorrow's Belgian Grand Prix at Spa-Francorchamps today. The Force India man had been quietly confident prior to the sessions, during all three of which he was very fast. But to see Force India take their unprecedented pole position was further testament to the unpredictable nature of the Ardennes track.
Force India have added further upgrades to their car this weekend, turning solid midfield runners into front runners for today. It is highly probable that Fisichella is light on fuel, however, considering that his team-mate Adrian Sutil is in a nevertheless respectable 11th. Conspiracy theorists might point to the speculation surrounding Fisichella and Ferrari, arguing that the team fuelled him very light for a one-off spectacular performance. Even if that is not the case, the contrast with Luca Badoer could not be more stark; the latter Italian had a torrid session, a good eight-tenths off Q2, and finished it by planting his Ferrari in the tyre barrier, to end up dead last. It is perhaps only in this crazy season that we might see a Force India on pole and a Ferrari last on the grid.
Spa threw some more jokers into the mix. Teams that many had written off for this year, such as Toyota and BMW, ended up second and seventh and third and fifth respectively. They will all be fancying their chances tomorrow, although fans will have to wait for the fuel-adjusted grid in order to have a clearer idea of real pace. The main winner from a championship perspective is the excellent Rubens Barrichello, who managed to find grip where his peers found none. He will watch and wait from fourth, and plan to take the victory.
His main threat may come from Kimi Raikkonen, who from sixth on the starting straight and with a KERS rocket in his pocket, will aim for a devastating start. The Red Bulls are not out of contention in eighth and ninth either, but they are a good deal further back than many thought they would be. In a sense they have failed to capitalise again on the misfortune of others, although events in the race may disprove that assertion.
But again this column is being written telling of the mysterious non-performance of Jenson Button. Newspaper inches talk of a lack of killer instinct; that when the going has got tough, Button has failed to get going. But the story must be more complex than that. There is obviously some deeper issue with the developed Brawn that Button did not have with its early-season incarnation. He is just not fast enough at the moment, and would be very happy with points tomorrow.
Other losers include the McLarens, who many tipped for the victory tomorrow. The new incarnation of the MP4-24 seems to be very good on high-downforce tracks, but obviously does not have the same pace through medium- and fast-corner-dominated racetracks. Lewis Hamilton is gamely fighting on with it, as much as his erstwhile team-mate Fernando Alonso is doing with the Renault, but they will both be hoping that the mercurial Spa weather turns terrible come tomorrow afternoon.