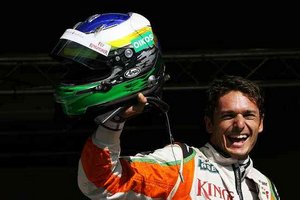 Fisi a Force to be reckoned with in Spa…
Giancarlo Fisichella rocked the formbook in Spa-Francorchamps by securing Force India's maiden pole position in a ruthless qualifying hour for the Belgian Grand Prix which claimed the scalps of championship leader Jenson Button and defending world champion Lewis Hamilton.
For once it wasn't the rain that caused the upset in Spa. Fluctuating track temperatures in the Ardennes, which made the harder medium compound tyres the better option in Q3 as temperatures rose, produced one of the most topsy-turvy grids seen this season.
The situation played into the hands of those teams who used up their softer tyre options in Q1 and Q2 in a bid to progress to the shoot-out, while hampering the big-hitters who were saving their softer options for Q3.
Force India hit the sweet spot and timed the switch to the medium compound tyres in Q3 perfectly as Giancarlo Fisichella set a searing 1.46.308 in the closing stages to dethrone Jarno Trulli and Rubens Barrichello, and take his fourth career pole position.
"I didn't expect to be on pole," exulted Fisichella afterwards. "It feels just great, like a dream. I am so happy for myself, for the team, for the mechanics, the engineers, who have done a fantastic job. They did a great step forward for Valencia for the last race considering our budget and our resources."
"This morning we had a small accident when I hit a rabbit, but my engineer said it would be lucky and it was ! What a result. I am now not only looking for points, but for more. We've got this far we need to finish the job!"
The performance will no doubt be a boost to Fisichella's credentials for the second Ferrari seat as rumours gather pace that he will be in the car for his home grand prix in Monza in a fortnight.
Post-qualifying fuel weights confirmed that Force India are running Fisichella considerably lighter than their competitors would explain their lap-time advantage at the long two minute circuit. However, their raw pace was evident in the second qualifying session when Fisichella went second quickest.
Toyota and BMW Sauber also judged the tyre situation well with Jarno Trulli lapping to within a tenth of a second of Fisichella's pole time.
BMW Sauber also managed their tyre allocations as Nick Heidfeld carried his pace from final practice into qualifying to go third quickest.
Rubens Barrichello, fresh from victory in Valencia a week ago, was the leading big-hitter as he hustled his Brawn car into fourth place, ahead of Robert Kubica. But teammate and championship leader Jenson Button, in identical machinery, failed to muster the same kind of pace from his BGP001 and has his work cut out in Sunday starting from fourteenth.
"I didn't expect to qualify in 14th position today but we really struggled with grip levels, particularly on the softer tyre," explained Button. "The car hasn't felt quite right all weekend and unfortunately I wasn't able to get any more out of it today."
"Rubens and I are usually very closely matched but he was quick on the option and I wasn't so we need to look into the reasons for that. I just couldn't find any grip on the softer rubber so the rear end felt unstable and I had no confidence under braking, particularly in the middle sector.
"It's strange as our set-ups are different but not by much. It's going to be very tough in the race from here but at least we have more time to choose our strategy. We need to get it right and see if we can score some points tomorrow."
Spa specialist Kimi Raikkonen was sixth fastest for Ferrari and will be well placed to start Sunday's race given the advantage that his KERS device will produce in the first sector.
But Ferrari will now almost certainly look to replace their stand-in driver Luca Badoer in Monza after the Italian veteran qualified last, almost two seconds off the pace. As if Badoer's afternoon couldn't get any worse, he spun off at Les Combes and ended the session in the gravel.
"I m not happy, because this morning, at the end of free practice, I had hoped to make it through to Q2," said the Italian. "Unfortunately, partly because of traffic and partly because of a few small problems, I didn t manage to put together a perfect lap."
Timo Glock in the sister Toyota was seventh quickest ahead of the two Red Bull cars. Vettel and Webber are the heaviest of the front-runners and could come into play in the later stages of Sunday's race.
Nico Rosberg completes the top ten.
Q3 – How it Happened
In Q3, Kimi Raikkonen laid down the gauntlet with a lap of 1:47.218 on the softer tyre options.
As track temperatures rose in the final shoot-out, the teams, quickly realised that the medium compound tyres were better suited to the track conditions, and all of the drivers on the softer tyres abandoned their first flying laps to switch tyres.
Nick Heidfeld was the first driver to set a time on the harder compound tyres and he quickly trumped Raikkonen's time on a 1.46.895 with BMW Sauber teammate Robert Kubica going second quickest.
But an astonishingly quick lap from Giancarlo Fisichella saw the Italian take the top spot on a 1.46.308. Jarno Trulli slotted into second place.
Bad day for the Brits…

Defending world champion Lewis Hamilton and current championship leader Jenson Button both failed to set a time quick enough for the final Q3 shoot out and will start Sunday's Belgian Grand Prix from twelfth and fourteenth place respectively.
Hamilton, who planted his McLaren on pole position in Valencia a week ago, was quick in the first and last sectors thanks largely to his KERS system, but a slower middle sector saw him hover on the cut-off point for Q3. A searing lap from Nico Rosberg, one of the drivers tipped to replace Kovalainen at McLaren next year, ultimately pulled the trigger on Hamilton's hopes of a place in the shoot-out.
"We did the best job we could today," said Hamilton. "We d always known the car would struggle in the mid-sector corners: being one second down in the mid-sector shows the true downforce level of our car. We expected that we wouldn t have as good an aero package as some of the others we just didn t know to what extent. I guess today we found out.
"But I m not too disappointed this year has been a rollercoaster ride for everyone, but I m enjoying it still and I love driving this track. My plan for tomorrow is a points finish."
Kovalainen in the sister McLaren endured similar problems to Hamilton in the middle sector and qualified fifteenth.
"This morning, we started to become a little surprised by the pace of some of the other cars," said Kovalainen. "We were struggling in the high-speed corners a little more than in either Hungary or Valencia, where the circuit configurations are slower.
"We expected today to be tough and our results show we are still lacking in high-speed efficiency, downforce and straight-line speed.
"Still, it was very close today; there was quite a bit of traffic in the session and, with just a couple more tenths, we could have made it into Q3. I ll be racing hard tomorrow and I feel confident we can go forwards from here. Nevertheless, we know where we are and we re not down because of this. We ve shown progress compared with Silverstone and we ll keep pushing to improve on our issues."
Adrian Sutil affirmed Force India's performance by lapping eleventh quickest, just missing out on a place in Q3.
Scuderia Toro Rosso drivers Sebastian Buemi and Jamie Alguersuari set an impressive pace in Q1 but just missed the cut-off point after late flyers from Fernando Alonso and Robert Kubica demoted them.
Williams driver Kazuki Nakajima, another driver under pressure to secure his seat in 2010 as rumours abound that Toyota will end their contract with the Grove-based outfit, qualified in eighteenth place, ahead of Renault rookie Sebastian Grosjean and Luca Badoer.