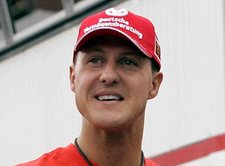 As looked increasingly likely on Sunday night, seven-time world champion Michael Schumacher is set to come out of retirement and race for Mercedes GP for the 2010 season. The rumours have grown ever louder, and now it seems the confirmation of the news is simply a matter of time. But why does Schumacher feel the need? Is this going to be a heroic return, in the Niki Lauda/Alain Prost mould? Or does he risk tarnishing that incredible record?
Schumacher's motivation for returning to F1 seems relatively easy to understand. Rewind to mid-2009, as we find Felipe Massa in hospital after a serious accident and Ferrari in need of a replacement. The story is well-documented; Schumacher – at that time a relatively pointless 'consultant' – was asked to step in. There followed a period of much excitement, from the media and the other drivers, but also on Schumacher's part. The old competitive fires – which had burned so brightly and effectively for so many years – were re-ignited. But he was prevented from racing by factors outside his control. The fact that his hopes were dashed by that niggling neck injury is key to explaining why the great man is returning now. Sources close to the German have said that he was as devastated by not being able to race again, as he had been by anything in his career up to that point.
And so it looks very likely that he will return. Statistically the greatest of all time, Schumacher drove his final F1 race in 2006, a full two seasons before this journalist began writing about F1. But the esteem in which he is held is higher than ever. Only recently, Autosport polled all the living drivers, asking them who amongst them was truly the best. Schumacher came an extremely creditable second to Ayrton Senna.
The success of Schumacher's comeback is, some argue, probable. History indicates it can be done – having retired at the end of 1979, Niki Lauda returned in a McLaren in 1982, and in 1984 won the world championship again. Alain Prost took a sabbatical year at the end of 1991, and walked the 1993 championship in an all-conquering Williams FW15. As ever in this sport, the machinery is key…but with a Ross Brawn-supervised, Mercedes-Benz-backed steed underneath him, Schumacher will not be envisaging a season of scraping points. He will have wanted to know that wins were on the agenda before entering any negotiations.
There are also no doubts about the great man's fitness, or speed. Schumacher set new standards of aerobic fitness in the mid-1990s, some of which are still not met by newcomers to the sport. He has maintained his level of health by playing football and patently has not gained weight. His competitive edge, meanwhile, has been kept razor sharp by his motorcycling exploits, the yearly Race of Champions, and by trouncing Felipe Massa at will in karting competitions. Damon Hill recently paid tribute to Schumacher in the Times, saying that if he (Hill) could win the championship in 1996 (as a merely mortal racing driver) at the age of 37, then Schumacher could definitely be competitive at 41. Nigel Mansell, a man of comparable determination and fighting spirit, won the 1992 championship at the age of 39.
But there are also the naysayers. A comeback in any sport, after an immaculately successful career, is always viewed by the purists with a mixture of fear and trepidation. Many fans have a golden image of Schumacher as the man who could bang in lap after blinding lap, make up seemingly impossible discrepancies between himself and the car in front, and conquer all with apparently no effort. Will the man still be able to do that? The answer, sadly, is probably not. With respect to Hakkinen, Villeneuve and Coulthard, Schumacher will be facing a much tougher challenge this time around. His final tormentor, Fernando Alonso, is now a much better driver than he was when he first beat Schumacher, and in all likelihood in a better car. Lewis Hamilton is magnificent. And Germany has a new wunderkind, in Sebastian Vettel.
Moreover, there is no guarantee that 2010's Mercedes GP (nee Brawn) will be half as competitive as last year's was. By season's end, Red Bull, McLaren and to some extent Ferrari had negated Brawn's competitive advantage, albeit with some parts of the Brackley team already engaged in producing the 2010 machine. Schumacher is probably still good enough to drag a bad car to places it should not be, but there would be few sights more painful than the old master struggling to hack it in a poor car.
What is more, there does seem to be a touch of the mid-life crisis about Schumacher's decision. He is leaving the warm, cuddly Ferrari environment where he is revered, worshipped and adored. They have even named a road after him in Fiorano. It had seemed that his disappointment when he could not come back into the Ferrari seat was also on behalf of his Ferrari brethren, as much as it was for he himself. But this has turned out not to be true. Friend and confidant Luca di Montezemolo sounded much like a jilted wife this week when he refused to acknowledge the "real Michael" would do this – go off and join the hated Silver Arrows. Instead, it was another Michael, the one with the burning desire to race and compete once more.
Let all F1 fans sincerely hope that that ambition is enough to prevent the destruction of his reputation.