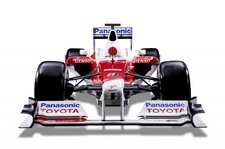 Toyota today launched their new car in an online unveiling ceremony. The Japanese marque, which has been the subject of frenzied debate in recent months following its record $1bn loss and the withdrawal of main rival Honda from F1, nevertheless appeared optimistic about the future.
In 2008, Toyota enjoyed a marked improvement over previous campaigns. The team finished fifth in the constructors championship overall, beating its Japanese rival Honda comprehensively. Drivers Jarno Trulli and Timo Glock were consistently threatening the big teams, and Trulli celebrated a podium finish.
"I expect Toyota to be competitive again," said Trulli at the launch of the TF109. "Beyond that I cannot say; we will have to wait and see what the first few races hold.
"I am a very confident person and I am always optimistic so again this season I have high hopes, but I know from my experience that whatever I say in the winter doesn't really count for much when the season starts – the important thing is what we do on the track.
"I hope I can fight for Toyota's first victory; that is my dream. Formula One is extremely competitive at the moment so I expect this season to be exciting and very interesting; I am looking forward to it."
The TF109 appears to be following the 2009 trend for high rear wings and wide front wings, following the new aerodynamic regulations intended to create more overtaking. The team s colour scheme has remained consistent with its previous cars.
In their years in F1, Toyota have developed something of a reputation for financial profligacy, a dangerous trait in difficult economic times. However, they remain a team capable of reacting well to drastic rule changes, and could be a dark horse for 2009.
Trulli said: "It is a big change and whenever you make a change like this, it is impossible to predict how it will affect each team. Toyota has the capability to adapt to these regulations as well or better than any other team so I am hoping it will give us a good opportunity.
TF109 In Pictures: