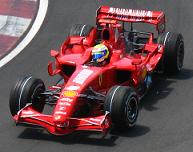 Ferrari are having to make a tough decision when it comes to their car resources and development programmes.
The scarlet-clad team are currently fighting with McLaren for both titles and cannot afford to ease off some of the pressure, meaning they must continue to improve and develop their current F2007 car. However, they must also work on next year s car to ensure that they are fully competitive for the next season s racing.
"The balance is very difficult to achieve to be honest, because we are still fighting for the championship," head of Ferrari s chassis department Aldo Costa explained. "There is a very long lead time of preparation for 2008 and it has to start. So it is a very tough period. We are still working on this car, pushing the development, but the 2008 car has to be seriously considered."
"Next year s car will appear again at the beginning of January, but we still have to decide when. We will benefit from having the same rules for tyres and aerodynamics, so we will go in this respect towards a stable year. This unknown thing with be the MES electronic system which is pushing us to find a different compromise for the general car development, as there will not be any more driver aids.
"On the reliability side, it will be again a good challenge for the gearbox because it has to last for four races. And there is, of course, a material limitation in the composite area so there is a lot of thinking about that. So it is quite a busy winter and also, as I said before, a tough summer to work on two cars this year s car and next year s car."