Red Bull Racing have launched their 2008 challenger, the RB4, on the third day of testing at Jerez.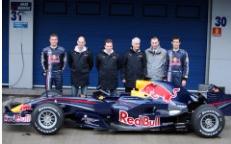 The RB4 is the second car to have been built by technical guru Adrian Newey and the team are hoping that the new car can deliver more reliability in a bid to be even more competitive this season.
Driver Mark Webber is hoping that because the team has stayed the same through 2007 and onto 2008, the continuity will help them on their way to better results in 2008.
"The biggest thing for us this year is the continuity," he said. "We have the same engine, we have the same drivers, and we have the same technical staff. All the engineers that David and I worked with are the same, so that's going to help us come Sunday afternoon."