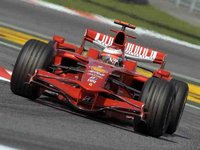 Kimi Raikkonen had little to say about Lewis Hamilton's controversial penalty in Monza, but unlike other drivers who have moved to defend the Briton's actions, the Ferrari driver simply claimed that "rules are rules".
"In one way it was a racing incident, but there are rules to cover these situations," he said. "I am not the man who makes those rules and those who do took the decision that they did."
"I don't have anything to say about it, except that obviously, I prefer a race to be decided on the track, not after it is over, but the rules are there to follow."
Raikkonen added that he has no regrets about the outcome of the GP in which he crashed into the wall as a result of staying out on slick tyres.
"As far as the actual driving conditions at the time of the incident were concerned, when you are in front it is a bit trickier as you don't know what to expect, whereas the guy behind gets some warning, which helps to read the situation."
"Out in front you just try and go as quick as the grip level will let you go. I knew that if it started raining it would be hard to keep out in front. I would have come in to change onto the rain tyres, but I never made the final couple of hundred metres to get to the pits!"
"It's easy to say afterwards that I could have settled for second place, but I wanted to win and I went for it and it cost me some points, but at least I had more fun in Spa than I had in some other races."
Raikkonen has fallen out of touch with the championship leaders as a result of his DNF.
"The position I am in now means that in terms of the championship, I have nothing to lose, so that opens up more choices in how I tackle the remaining races."
"I will do the best I can and hopefully I can get back to the front and try and win the championship. But once there is no chance of mathematically taking the title, then that will be the time to think about how I might help Felipe."
"But you can never be sure what will happen: look at how last season ended. Maybe I can fight back. For now though, the two of us will be racing as hard as we can."