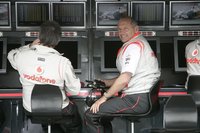 FIA said Hamilton's pass was 'okay' – twice
McLaren were twice told by race control that Lewis Hamilton's controversial pass on Kimi Raikkonen in Sunday's Belgian Grand Prix was 'okay'.
Hamilton was stripped of his Belgian GP win after stewards dealt him a 25-second time penalty for cutting a chicane during his battle with Kimi Raikkonen in the closing laps.
The stewards felt that Hamilton gained an unfair advantage by using the momentum to re-pass Raikkonen into the La Source hairpin.
But McLaren CEO Martin Whitmarsh said they were twice told by race control that the move was 'okay', since Hamilton yielded to Raikkonen before overtaking him.
"From the pit wall, we asked Race Control to confirm that they were comfortable that Lewis had allowed Kimi to re-pass, and they confirmed twice that they believed that the position had been given back in a manner that was 'okay'."
McLaren confirmed on Tuesday that they would continue to appeal against the decision.
Martin Whitmarsh said: "Following our decision to register our intention to appeal the penalty handed out to Lewis Hamilton by the FIA Stewards at the 2008 Belgian Grand Prix, we hereby confirm that we have now lodged notice of appeal. Lewis describes the incident as follows."
Lewis Hamilton meanwhile has issued his account of the incident, confirming that he lifted off to allow Raikkonen past.
"In the closing stages of the race I was catching Kimi consistently, lap by lap, and with three laps remaining I got close enough to attempt to overtake him on the entry to the last chicane," said Hamilton.
"I managed to get slightly ahead of him in the braking area for the first apex of the chicane. He fought back approaching the second apex – but, in doing so, he left no room for me on the inside line. The only way for me to avoid a collision was therefore to cut inside the second apex."
"I came out of the second apex in front of Kimi and so I momentarily lifted-off on the straight, to ensure that Kimi got back in front. The team also came on the radio and instructed me to allow Kimi to repass, which I had already done. As a result, Kimi crossed the start/finish line ahead of me and 6.7km/h quicker than me.
"After allowing Kimi to completely repass, I crossed from the left side of the track to the right side of the track, passing behind Kimi in the process. I then attacked Kimi on the inside of the first corner, and successfully outbraked him."