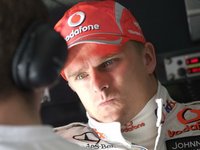 As if things couldn't get any worse for McLaren, Heikki Kovalainen has been clouted with a five-place grid penalty for unintentionally impeding Mark Webber. The punishment drops the Finn to tenth on the grid, three places ahead of team-mate Hamilton in what is McLaren's worst qualifying result of the season.
Kovalainen, whose run of bad-luck seems to have no end, was trying to get out of the way of Webber at the end of Q1. But confusion between himself and Williams' Kazuki Nakajima, who was similarly trying to avoid the Aussie, resulted in the duo compromising the Red Bull driver in the Lycée complex.
Kovalainen admits that, ironically, had he been able to get a clean lap himself in the opening knock-out session, he would not have had to resort to making the second run in which the incident occurred.
"The traffic meant I couldn't put together a clean opening lap in Q1, so we did a second run just to make certain," explained the 26-year-old. "Owing to the penalty I was given following the mix-up with two other cars, I will start 10th; not ideal, but it's perfectly possible to score points from there and that's what I intend to do."
McLaren Team Principal Ron Dennis added that the team has no qualms with the penalty, but he acknowledges that it will make Sunday's race "challenging".
"It was one of those things," explained Dennis, "he and Nakajima tried to stay out of Webber's way, but in their efforts to do so there was a bit of positional confusion and nowhere left for him to go."
"The result was that he compromised both his own and Mark's laps. We have no objection to his penalty, and look forward to an exciting and challenging day tomorrow."
Norbert Haug, Mercedes Vice-President also acknowledged that the race would be more difficult given Hamilton and Kovalainen's penalties, but he expects the duo to have good underlying pace from the MP4-23 which will help them to progress through the field.
"A difficult qualifying session, and the race will certainly be no easier," added Norbert Haug, Mercedes Vice-President. "Tomorrow we will try to score points and compensate as much as possible for our handicap after Lewis's 10-place relegation and Heikki's five-place relegation."
"Both Heikki's and Lewis's race speed and strategy should be good," added Haug.