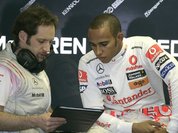 Lewis Hamilton could have claimed pole position on Ferrari's home turf had it not been for a "sub-optimal" lap and a sensible race strategy befitting his penalty. That is the verdict of McLaren Team Principal Ron Dennis.
Hamilton, who arrived in France with a ten-place grid penalty for his pit lane run-in with Kimi Raikkonen in Canada, will line up in thirteenth place for Sunday's French Grand Prix after a scrappy flying lap in qualifying cost the British ace a front row grid slot.
On his first attempt at pole, the McLaren driver lost control at the Nurburgring corner almost throwing his MP4-23 off the track, but somehow hanging onto the back end as he ran wide on the exit. His second flying lap was marred by smaller errors that left him just over two tenths of a second adrift of pole-sitter Kimi Raikkonen, a considerably smaller margin than had been the case in Friday and Saturday warm up.
Ron Dennis has made it clear that the team were not prepared to throw out the optimal race strategy just to get Hamilton into pole position, and thus minimise the damage of his penalty with P11. The Englishman has consequently taken heart from his driver's underlying pace on what was a sensible fuel load; not to mention the fact that Magny-Cours has traditionally favoured Ferrari.
"Today's qualifying session was quite a challenging one for Lewis, since neither of his quick laps was perfect," explained the McLaren chief. "Had be been able to string together an optimum lap, it's clear that he would have been capable of being quickest."
"Having said that, despite knowing that he would be relegated 10 grid places, we decided not to sacrifice a good race strategy in our efforts to be fastest and thereby line up 11th."
"So, bearing in mind that he's still 13th despite having carved out what by his own admission was a sub-optimal lap, he clearly has the potential to record a good race result."
Hamilton meanwhile has apologised to his engineers and mechanics for the mistakes that cost him a potential front row starting position.
"I have to apologise to the team for making a couple of errors on my final runs in Q3," professed Hamilton. "I felt more confident on the prime tyres but went wide at Turn Seven on the first run because I was pushing to try to get the best out of the car. It was a little bit disappointing."
While Hamilton has made it clear that his penalty is not something that he feels hangs over him, he admits that he could do without it this weekend.
"While my grid penalty doesn't exactly hang over me, it doesn't help," he said, "but I'll take it on the chin," he added.
"Overtaking is going to be tough on Sunday but I'm confident we're going to be quick. And, as always, I'll be pushing as hard as I can to score as many points as possible for the team."