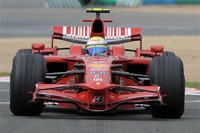 Felipe Massa believes he could have gunned for pole in Magny-Cours had he not over-driven his F2008 on his final flying lap.
The Brazilian ace lapped quicker than team-mate and eventual pole-sitter Kimi Raikkonen in both of the opening knock-out sessions but succumbed to the reigning world champion in Q3 by a mere four hundredths of a second.
The Ferrari ace, who began from pole last year only to be out-raced by Raikkonen, believes that pushing too hard cost him valuable time and prevented him doing in the shoot-out what he had done in Q1 and Q2.
"It was a good qualifying, especially the first two parts," said the 26-year-old. "In the third one, maybe I went a bit over the limit to try and get out all the potential from the car and I lost enough time to prevent me from doing better."
However, Massa was pleased with the underlying pace of his F2008 around the demanding Circuit de Nevers and is hopeful of a strong result in the race: "I am happy, because we have everything in place to pick up important points for the championship."
"The F2008 is very competitive on this type of track and we worked in the right direction in terms of fine tuning it. Tyre choice for qualifying was not easy but so far, we have been able to be strong in all conditions."
Kimi Raikkonen meanwhile was delighted to have claimed Ferrari's 200th pole position. The Finn is now well placed to do what he did last year when he got his championship campaign back on track with a dominant victory.
"I am very happy with this result, not just for myself but above all for the team. It is a pleasure to have taken Ferrari's two hundredth pole even if, at the moment, I have only played a small part in the history of Scuderia."
"So far, the weekend is going really well but of course we have yet to tackle the most important part which is the race, where anything could happen."
"The car has always been well balanced and, at least as far as the first lap is concerned, the performance of the two tyres is pretty similar, while the harder compound seems to do better over a long distance."
The Finnish star added that he would be disappointed not to win Sunday's race having taken pole position.
"If I was not to win, I would obviously be a bit disappointed, but the most important thing is to finish and bring home the maximum number of points, because we really need them."
Ferrari's senior management reiterated Raikkonen's words of caution that ultimately it is the race result that matters, but they were nonetheless pleased with the all-round pace of the F2008 and are expecting a good result in the race.
"We are very happy with this result," enthused Team Principal Sefano Domenicali. "It is very satisfying to have notched up our two hundredth pole, but we must not rest on our laurels."
"It's the championship points that count and they get handed out after the race. It's true that this gives us the best possible start, but we will have to watch every last detail if we want to bring home maximum points."
"On top of that, the weather forecast is very uncertain, with a chance that it could worsen just as the race is on."
Ferrari Team Manager Luca Baldisserri added: "A great qualifying, with both cars running trouble free throughout."
"So far, we have tackled this race weekend in the best way possible, but we know what really counts is the race. Strategy, tyre performance, the work of the drivers and team and, above all, reliability."
"Added to these will be the weather. If it was to rain, we will need to be sharp to react to the various situations that could develop during the race."