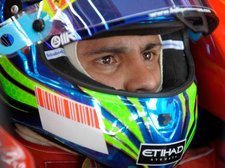 Felipe Massa has hit back at former team boss Eddie Jordan over claims that he would consider resorting to dirty tactics in his title showdown with Lewis Hamilton in Brazil this Sunday.
The Ferrari driver took offence to comments made by Jordan that warned Hamilton to retaliate should Massa try to take him out in Sunday's race.
Massa arrives in Brazil with a seven points deficit to Hamilton and will be hard-pressed to win the championship should the McLaren driver enjoy an incident-free race.
But the Brazilian insists he has no intention of resorting to foul play and is focussed only on winning the race.
"Playing dirty has never been part of my game," the 27-year-old is quoted as saying by the Press Association. "I don't want anything to do with it. The only thing on my mind is winning the race.
"The rest does not depend on me. If I'm champion, it will be a dream come true. If not, that's okay. I will try again next year."
He went on to slam Eddie Jordan as a 'has-been' member of the F1 fraternity: "Since he sold his team, Eddie Jordan has had nothing to do with F1 except for what he says in the press!"