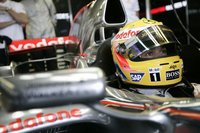 McLaren driver Lewis Hamilton believes he can still win at Magny-Cours despite the ten grid slot penalty he will incur.
Hamilton s penalty comes after he failed to see the red light at the end of the pit-lane during the Canadian Grand Prix causing him to smack into the rear of Kimi Raikkonen s Ferrari, putting both men out of the race.
The penalty means that the highest grid slot that Hamilton can start from is eleventh. Despite this, Hamilton is confident that he can still win the French Grand Prix.
"I feel quite confident that we can still win there," he told Reuters. "That s my job. I have got to have that belief in myself and my team. I still feel we can finish in the top three but it is going to be a real challenge."
Hamilton also quashed suggestions that the incident last weekend was the lowest point of his career.
"It was nowhere near one of my lowest points," Hamilton explained. "I don t even particularly feel it was a low point. It was one of those things you just have to come to terms with and move on in the race, I was on top of my game.
"I believe it is going to be very difficult to win but I don t plan on it going to the last race. We will push as hard as we can to do the job it doesn t matter if it is early or the last race, so long as we get it done."