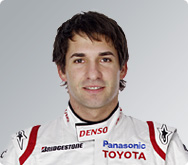 Toyota have a radically different car for the 2008 season and new driver Timo Glock has warned that the team may initially take a step backwards until the team start to really understand how the car works and performs on track.
"What is clear is that we can't think the new car is the new wonderbaby and we will be five seconds quicker or whatever," Glock explained. "It's a completely different car compared to the old car, and first of all we have to find out how the car is and how we can improve it.
"It has a longer wheelbase, it's completely different aerodynamically. We have to understand it and how it works, and then just improve it from test to test. Overall, it's more consistent.
"The positive side is it's more stable on the rear and that makes it a bit easier to drive. I think to find out the problems is a little bit easier with this car than the old car.
"It would be a disappointment to be slower than last year's car, but that's not the case at the moment. The question is how everybody else develops their cars. The point is that we have a completely new car and completely new aerodynamics, and that's what we need to understand. It could be a little step back, but in the end it will pay off when we understand how the car works and make it quicker."
The German driver was satisfied with the car's pace in yesterday's test, and believes that the Toyota team have already come up with some ideas for improvement. "Today we are just one second off. Okay, in F1 a second is a lot, but for the first roll-out and proper test I think it is okay," he continued.
"We know where we have to develop the car, and that is quite positive. We have to develop the car aero-wise, top speed-wise, and make it more efficient, that's quite clear. But at the end, we have to develop in every direction. We still have hard work to do in the next month. What is clear is that we have to work even harder than all the other teams, and we can't do that in two or three months. We need more time, and that's what we have.
"But I'm really happy that the team is still really motivated. It's good fun to work with them, and I think there are a lot of good ideas on how we can improve the car."