Max Chilton, one of motorsport's youngest and most exciting new prospects, is causing a stir in racing circles. Forumula1.com's very own Chris Hayes catches up with the teenage sensation following his explosive debut in one of Formula One's most long-standing recruiting grounds.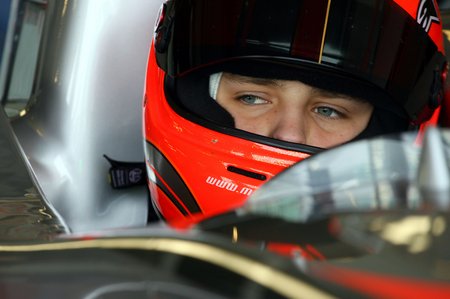 Words: Christopher Hayes
Photographs: Jakob Ebrey
It's a cold and depressingly damp Monday afternoon at Cheshire's Oulton Park. The race track, located in the remote rural village of Little Budworth, has just been hit by a snow shower welcome to British Formula 3.
Max Chilton, a relative unknown in the upper echelons of motorsport despite a name and face that cry out for Formula One's PR machine, climbs into his Mercedes powered Dallara and buckles in for his F3 debut proper he was deemed too young to compete last year and deferred entry until later in the season. One year on and all eyes are on the sixteen-year-old. He lines up an impressive fourth having qualified within touching distance of his considerably more experienced team mate.
The glaring red glow from the starting light gantry illuminates the damp track before vanishing into insignificance and with it Chilton s status as an unknown quantity. Sixteen testosterone charged adolescents galvanise their 200bhp machines into action in a toxic display of speed and youth that would have the DVLA wincing. Less than ideal visibility and tricky track conditions, neither wet nor dry, only add to the spectacle.
The F3 sapling stamps his authority on the feeder series with a blistering getaway. He slingshots out of his grid position and instantly nails his team-mate. Then, in an impressive display of maturity, he negotiates an ailing rival before slotting into second place at the first corner, ahead of his team-mate. Job done. He stays there for the remainder of the race, clinching his first career podium in single-seater racing and becoming the youngest driver ever to do so.
Sound familiar? The immediate village surroundings of Little Budworth may be a far cry from the glitz and glamour of sunny Melbourne, host to the Formula One season curtain raiser. But the manner in which Max Chilton negotiated his way to the sharp-end of the grid evokes obvious parallels with the explosive debut of Lewis Hamilton in motorsport's premier series last year the British ace famously surpassing his two times world champion team mate Fernando Alonso into the first corner.
"I don't think they were expecting that, especially given how young I was," recounts Chilton. "In the wet it's a lot easier than you think it is, it's literally just driving away like you're at the traffic lights: no revs, no clutch and you can go and short-shift all the way up the box. But some people try and get the max revs and slip the clutch through it doesn't work. So yeah I got a good start and I was up to second and then from there I just had to hold on which it is in the wet. Doesn't matter if people go past because they usually put it off because they're going too quick."
A remarkable understanding, and above all respect for, what is ritually known in driver circles only as "the limit", the fine line between being controllably and un-controllably quick especially for one so young.
Indeed, such is Chilton's youth that Forumula1.com finds itself catching up with the recently turned seventeen-year-old not in the bustling confines of the F3 paddock but on the sidelines of his college football pitch greenery once graced by former F1 World Champion Mike Hawthorne no less. The Reigate student-come-racer shows us where he once rushed to the help of a puncture-stricken parent and promptly changed the tyre with little more than his bare hands.
Chilton, brother of British Touring Cars ace Tom, juggles his education alongside newfound responsibility with defending F3 champions Hitech Racing. The Buckingham-based outfit signed the rookie at the end of 2007. Chilton has a lot to live up to. The 2006 Karting Champions Cup runner-up fills a seat vacated by reigning F3 Champion Marko Asmer, who dominated the feeder series last year and has since been signed by the BMW Sauber F1 team as test and reserve driver.
"You can't really plan racing, some people come along and say 'I want you now'"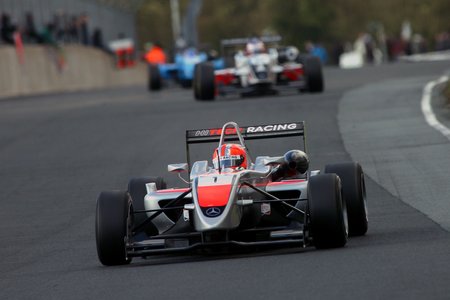 All eyes will be on the Hitech prodigy to see how he fares in a front-running team and whether he can replicate the success of Asmer. With the reigning F3 Champion's appointment at BMW, comparisons between Chilton and the Estonian are inevitable. Such is the determination of the top-end manufactures not to let the next Lewis Hamilton slip through their fingers that extensive scouting and benchmarking, between drivers and across classes, plagues the lower ranks of motorsport. Only a few years ago young driver schemes such as McLaren's Young Driver Support Programme were unheard of. Indeed, the Woking based outfit's nurturing of Hamilton has revolutionised the way the big teams recruit their future talent.
"They come and check up on us that's what usually happens especially how young I am," explains Chilton. "If I end up finishing in the top three this year then I'll probably be signed with a Formula One team," he adds with ambitious confidence.
"We'll see how it goes, you can't really plan racing, some people come along and say 'I want you now.'"
When pressed on whether he thinks he is quicker than Asmer, Chilton responds with a refreshingly modest, albeit well-rehearsed, answer:
"Well he's the one we've got all the data from last year, and we compare all the data against us because he's obviously a good and experienced driver. But I wouldn't say I'm there yet. He's a lot more experienced. He's probably done six or seven years more racing than me and this is only my second year of single seater."
But he adds with a wry smile: "I'm not far off, I've had a little look at the data and I'm pretty good."
At seventeen years old Chilton has time on his side of course; Asmer was 23 when he finally left the feeder series for Formula One testing duties. Chilton is in only his second season and his best is yet to come: "usually you do you're best in your third year," he says.
"I think this year should go fairly well so long as we can get the car to work at every track, and get good qualifying. It's all down to qualifying – yeah, just hope it all comes together." No problems there; in Monza, the Hitech Racing ace stormed to his maiden pole position, shattering the records once again by becoming the youngest driver in F3 to claim the top spot.
However, Chilton is under no illusions of just how difficult it will be to realise his ultimate goal of competing in Formula One. "It's pretty competitive," explains the 2006 T-Cars Championship runner up. "If you think that there's only 22 seats in F1 and your working for that and there's probably 200 people doing the same as you around the world doing the same stuff. So it's a pretty small margin to get to."
Even Marko Asmer, who dominated F3 last year winning eleven out of the twenty-two races, has yet to prove he is deserved of a race seat with BMW. Indeed, for every driver that makes it to the top, there are vast waves who are forced to abandon their dreams and find ways to pay off their debts in lesser series'.
"You always think – am as I good as them in the class above? There's always a class above you're like 'I wish I could have a go at them'"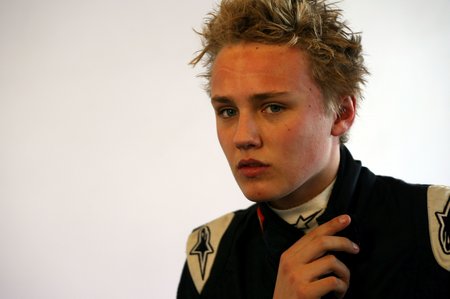 Take poor old Wesley Graves and to a lesser extent Gary Paffett, both of whom rose through the junior karting ranks alongside Lewis Hamilton as part of McLaren's Young Driver Programme. The former, somewhat tragically, paled into insignificance, his parents unable to continue to support his racing dream; while Paffett was reportedly gutted when McLaren gave Hamilton the race seat in 2007 and has since made a name for himself in the German sportscar series DTM.
It's a harsh and tragic truth that the majority will flounder, but it is also precisely that which makes F1 what it is the pinnacle of motorsport; the finest drivers in the world going hammer and tongs at each other in the most technologically advanced cars.
In Chilton, the drive and ambition to succeed is unwavering. The teenage ace dreams of one day dicing with the likes of Lewis Hamilton and Jenson Button both of whom he has seen rise through the very ranks he is competing in.
"Yeah. It's always been like that in racing. You always think am as I good as them in the class above? There's always a class above you're like 'I wish I could have a go at them'. So yeah one day I hope I can get in and see what I'm like."
Whether it is the supreme certainty bordering on but falling short of arrogance with which he describes this endeavour, or more benignly, the way he decides to plaster "#1" at the end of his signature on our request for an autograph, Forumula1.com can't help but picture the youngster striding through the glitzy F1 paddock en-route to his grid-slot somehow he doesn't look out of place.
"Hopefully people can see what I can do and I hope that I'm the one out of the 300-400 people to make it." And with that he returns to more pressing matters football.