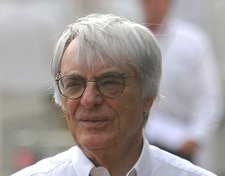 India is set to host a Formula One grand prix for the first time in 2011, Formula One supremo Bernie Ecclestone has confirmed.
A new circuit in Delhi is being developed but delays in construction work triggered fears that the grand prix may not take place.
The race was originally scheduled for 2010 but Ecclestone deferred the event to 2010 much to the annoyance of Force India boss Vijay Mallya who is hoping to use the race as a springboard to further investment and success.
One year on and Ecclestone says he is committed to helping Indian company Jaiprakash Associates Ltd get ready for the 2011 race.
"Of course we will deliver otherwise we wouldn't have entered into an agreement," the F1 supremo told the BBC Asian Network.
"It's a large, large country with a big population and it's good for the sponsors, car manufacturers and everyone involved in Formula One."
However, Ecclestone acknowledged that Formula One is unlikely to topple the country's favourite sport, cricket. "I doubt in India anything will be a rival to cricket, but let's see," he added.