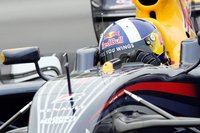 David Coulthard silenced his critics and showed the world he is every bit deserved of his race seat with Red Bull Racing after a sterling podium charge in a chaotic Canadian Grand Prix.
The Scot's vast experience in top flight came into its element on Sunday after a safety car period mixed the field up and gave those further down the grid on heavier fuel loads a whiff of success.
The Red Bull ace was one of those to benefit and kept out of trouble to seal the team's second podium finish of the year and the 62nd of his fifteen year long career.
"I'm delighted to get a podium for the team, they've had a lot of work on at the previous races and back at base," enthused the 37-year-old. "You can expect some unusual results here, so we fuelled it long; but we expected the incidents would occur on track, not in the pit lane."
"But, nonetheless, the strategy worked well and all credit to the engineers, mechanics and everyone back at Red Bull for all their hard work. The start was pretty hairy with all the cars bunched up round Turn 1 and Turn 2, but my goal was to get to the finish and get points, so to get my 62nd podium is a great result."
Mark Webber who began the race on a one-stop fuel load was hampered by the early safety car period and a spin late in the race left the Aussie twelfth at the chequered flag.
"I was on a two stop strategy and David was on a one-stop," explained Webber. "We were out of position a bit with what happened in qualifying yesterday and it was difficult to recover from there. David's result brings a lot of points for the team though, which is very good."
Team Principal Christian Horner was ecstatic with Coulthard's result and was pleased to see the Scot finally enjoy some success after a torrid start to the season.
"A fantastic result for the team today and particularly for David after such a tough start to the year," said the Englishman. "He kept his head down, had very good pace and the strategy worked out perfectly for a comfortable third place."
"For Mark, following his accident yesterday the pace car came at exactly the wrong point for him, and he was badly compromised by Barrichello and Nakajima in the first part of the race."
"He therefore couldn't exploit the pace advantage that he had and spent all afternoon in traffic. But, for the team, a podium result here in Montreal is an excellent result."