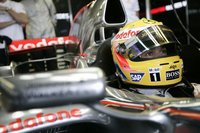 Lewis Hamilton has accepted his ten place grid penalty for ignoring a red light in the pit lane and careering into the back of Kimi Raikkonen.
The Briton was leading the Canadian Grand Prix when he peeled off into pit lane, along with the rest of the front-runners, in response to the first safety car period.
But when he left his pit slot he was taken surprise by Kimi Raikkonen and Robert Kubica who had stopped at the red light after taking on less fuel than the McLaren driver. Hamilton, unable to bring his car to a halt in time, ploughed into the back of Kimi Raikkonen ruining both their races.
"Before my pit stop, everything looked on course for the perfect result," reflected Hamilton, "we were so quick, we were breezing it in fact. But it wasn't a great pit stop – and, as I exited the box, I saw two cars jostling for position ahead of me in the pit lane."
"Obviously, I didn't want to get involved in their tussle, and was trying not to do so, and then all of a sudden they stopped. And by the time they'd come to a halt, it was too late for me to avoid them."
The race stewards have since dealt Hamilton with a ten place grid penalty for his actions which the British driver has no quarrels with.
"It's just unfortunate when stuff like this happens, but I have no argument with the stewards," said the 23-year-old. "We'd looked so strong for the whole weekend though, so at least we can leave Montreal confident that we have a package that will enable us to fight for the World Championship from here on in."
Hamilton's team-mate Heikki Kovalainen had a similarly nightmarish Grand Prix after struggling with his tyres and losing out to the safety car periods.
"Today wasn't a great day for me," bemoaned the Finn. "At the start of the race I felt we had the potential to record a very good result – but then I started to experience quite a lot of graining on my first set of tyres."
"Changing tyres didn't seem to help matters, and I was never therefore able to push hard to the finish. It's always difficult when you come home empty-handed, but this weekend has shown that we have a package that can compete for a win – and I'll keep pushing for exactly that in Magny-Cours."
The result was particularly disappointing for McLaren who had looked in great shape after Hamilton's sensational lap in qualifying on Saturday.
"A race to quickly forget," commented Mercedes-Benz chief Norbert Haug. "Lewis held a comfortable lead and controlled the field until the 20th lap and had the best chance of winning, when his accident at the pit lane exit destroyed them."
McLaren Team Principal Ron Dennis added: "Obviously, for a team that exists to win, today was a very disappointing day. But the fact is that we had the pace and therefore the capability to win, which is of course encouraging."
"The collision that eliminated Lewis was just one of those things. No racing driver would deliberately put himself out of a Grand Prix, and the plain fact is that Lewis didn't realise that the cars in front of him were coming to a halt until too late."
"It's difficult for a driver to decide whether to focus on the lights or on the cars ahead in situations like that. Having said that, we accept the stewards' decision."