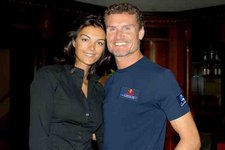 David Coulthard has become a father after his fiancée Karen Minier gave birth to a healthy baby boy on Friday.
The 37-year-old Scot retired at the end this year having competed in 247 grand prix, though he said that the decision was not based on his impeding fatherhood.
"That wasn't the deciding factor because plenty of drivers have children and continue with their careers," he said in his ITV column earlier in the year.
The Scottish veteran also joked that he had high aspirations for the new addition to the Coulthard family.
"He'll be signed up for Ferrari in 2028!"
It is the first child for David and girlfriend Karen. The name of the child is not known yet.