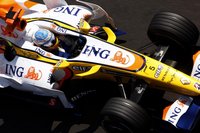 Fernando Alonso believes that he could have won the Canadian Grand Prix had the team used a different strategy.
Renault called Alonso into the pits during a Safety Car period and when he exited the pits after his stop, he filtered out into traffic. To make matters worse, BMW s Nick Heidfeld, who took his only pit-stop of the race on Lap 29, ended up in front of Alonso after his stop. Despite the Spaniard having a lighter and therefore faster car, Alonso was unable to pass the German driver. Alonso eventually spun off the track and hit the barriers whilst trying to overtake Heidfeld, ending his race prematurely.
"The strategy was an error," Alonso explained to Spanish reporters. "We would probably have won if we had stayed out on track instead of pitting when the Safety Car was deployed.
"Heidfeld came out ahead of Kubica and he was quite far behind us as he had a long stop. If we had stopped on Lap 25 we would have been ahead of Kubica and we could have won the race.
"We are not going to have a lot of opportunities to fight for the podium, with BMW, and less of being able to match their speed like this weekend. We had one chance and we didn t take it so we will have to wait until we get the next one.
Alonso also revealed that he had double-checked with the team to make sure they were certain about their strategy.
"I asked the team twice on the radio if they were sure that the strategy was the best and they told me it was so I pitted," he explained. "When I saw Heidfeld was in front of our car, I realised I was right that it would have better not to pit."