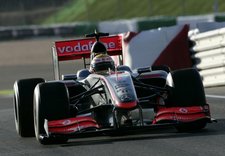 Lewis Hamilton's title defence just became harder. McLaren are in a race against time to re-design their car ahead of the new season after pre-season testing uncovered major aerodynamic problems, and left Hamilton over two seconds off the pace.
The team held a crisis meeting at their base in Woking on Thursday to develop an action plan and respond to a "performance shortfall" which reared its head during this week's test in Barcelona when a new floor was fitted to the MP4-24.
Lewis Hamilton and Heikki Kovalainen, who both spent the test languishing at the bottom of the timesheets, were in attendance as well as Team Principal Martin Whitmarsh and other senior members of the team's technical crew. Whitmarsh has now publicly admitted that the new car, as it presently stands, isn't fast enough.
"Initial testing of MP4-24, which first ran with an interim aero package, went in accordance with our early developmental expectations," said Whitmarsh. "This week the car has run in Barcelona with an updated aero package, as we had always planned it would, and a performance shortfall has been identified that we are now working hard to resolve."
"It is a combination of factors," said Whitmarsh of the car's problems. "Our Mercedes-Benz engine is strong – we saw that last year – so MP4-24's performance shortfall is clearly chassis-centric."
When asked if the car was quick enough to challenge the front-runners he said: "Not at the moment – and certainly not by our team's extremely high standards. But Lewis is the reigning world champion, and he became world champion in one of our cars."
"So anything less than success at that level is naturally regarded as unsatisfactory by us, by our partners, by the media and by the fans. Having said that, McLaren has started 648 grands prix. We have won 162 of them and have recorded 431 podium finishes.
"We are proud of our record and have faith in our engineers' ability to work hard to get MP4-24 into a position to add to that record. They are already engaged in doing exactly that."
Whitmarsh is confident though that the team can rectify the problems before the season opening Australian Grand Prix on March 27.
"Inevitably, in 21st-century Formula 1, it is a car's aero aspect that confers the greatest pluses and minuses to its overall performance package, and that would appear to be the case with MP4-24. But Formula 1 engineers can do great things when the pressure is on."
"Speaking to them today, I was struck by their resolute determination to address MP4-24's issues in record time. In fact, it is that kind of resolute determination, coupled with expertise and experience of ultra-high technology and the ability to work accurately and quickly under pressure, that makes Formula 1 the great sport and the tremendous engineering challenge it is."
He added: "Many times in Formula 1 history have successful teams started off with a car that was not working as well as they had hoped it would, and many times have those successful teams engineered their way back to the front of the grid in impressively short order. That is what we aim to do. In fact, that is what we are already doing."