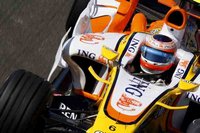 A rejuvenated Nelson Piquet, buoyed by his first points of the season in France not to mention the fillip of out-racing his double world champion team-mate for the first time was in action on the opening day of testing at Silverstone as he prepares for his assault on the points at the British Grand Prix.
The Brazilian, who will test again on the second of a three-day test session at Silverstone, has had a monstrous start to the season, failing to finish five of the opening seven races and progressing to the top ten qualifying shoot-out only once.
Then in France, everything came together for the rookie. Having fought off a McLaren onslaught in the opening laps as Lewis Hamilton and then Heikki Kovalainen tried and failed to surpass the Renault ace, Piquet ran late into the race on a heavier fuel load before vaulting past his team-mate when showers hit the track to take seventh place and claim his first career points in Formula One.
Piquet admits that his affinity with Magny-Cours was a key factor behind his success, and had things come together, he could have pushed team-mate Fernando Alonso equally as hard in qualifying as he did in the race.
"I think tracks like Magny Cours – I knew it," Piquet emphasised to Forumula1.com. "It was a bit better but still difficult and not a very good strategy."
"If we'd done qualifying again we could have qualified with Fernando. But it's just a case of knowing the track a bit better and having a better car. The car wasn't good in Canada."
Piquet also points the invaluable experience gained behind the wheel of his R28 in testing as a chief cause of his turnaround.
"Obviously my main goal is to be racing my team-mate," he says. "Yeah I think every hour you spend in the car you learn a bit more you get a bit more confident, it's just a natural learning process, just by staying a bit more with the car."
"All of these tests are very important for developing the car, but also for young drivers: the more you can spend behind the car the more we're going to learn. The things you only learn with time not by people telling you or looking at things, just hours of driving and feeling and getting used to things."
Silverstone is another track Piquet knows well from his days in GP2, and although gearbox problems stifled his running today he wound up seventh quickest there is every reason to assume he will be pushing hard for points in a fortnight.